Think you know Subaru? Things are heating up!
The New 2013 Subaru BRZ is now center stage at Patriot Subaru!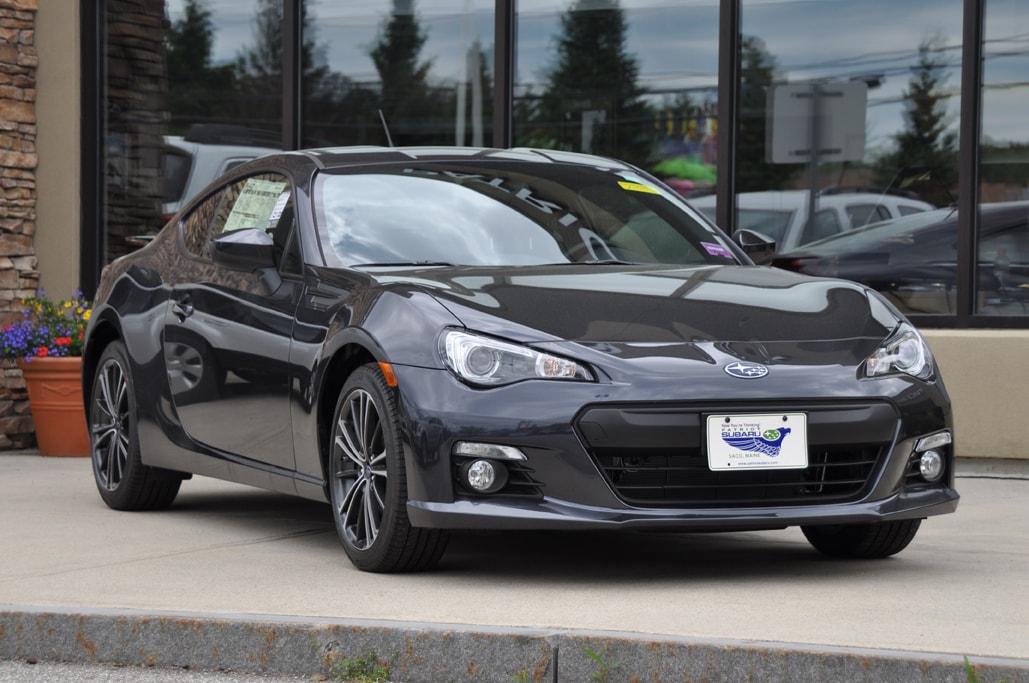 Let's answer the first question: What does BRZ stand for? It means Boxer, Rear Wheel Drive, Zenith.
The first two names are obvious nods to what's driving this amazing vehicle. Zenith - cool name!

Check out this quick video with Rich Snow, as he
goes over some of the key elements of the BRZ!


Here are excerpts from a great article by

TOP GEAR

:
One of the most highly anticipated automobiles getting ready for the spring of 2012 is the joint-venture sports car between Subaru and Toyota.

So where to start? As suspected, both Subaru and Toyota have had specific tasks within this joint project. Toyota has been responsible for the design (certainly not the most dynamic aspect of the BRZ), and has lent its direct injection technology to the engine. Subaru has done pretty much everything else. Talking to the engineers you get the sense this is very much Subaru's car. The first development prototype was a cut n' shut Legacy, the next an Impreza. This is good news, as we know Subaru can build great cars. The BRZ clearly has potential.

It's a brand new car from scratch, a rare thing these days. The engine is mounted so low, Subaru believes it has a lower center of gravity than a Ferrari 458. And a low engine is not only good for handling, but also means the driver is seated low, yet still see over the bonnet. It's snug inside, the design largely functional, the color scheme mostly gray. It's no Audi TT, but the impression is good because you've dropped so low into a wrap-around seat and your hands are clasping a small, feelsome wheel.



The driver's seat is definitely the place to be. Subaru boasts that this is the world's smallest four seat rear-wheel drive coupe, so you can guess what that means for those traveling in the back. And the boot seems to be a complete afterthought.
But enough of that, it's the driving that counts. The 2.0-litre flat four is naturally aspirated, revs to 7,400rpm and develops 200bhp and 151lb ft of torque. These, you don't need me to point out, aren't massively impressive figures these days. And the BRZ isn't a massively fast car. Final homologation happens next month, the expectation being a 0-62mph time of around 6.8secs with the CO2 target being 160g/km. I'd guess at a t

op speed of around 145mph, and 42mpg on the combined cycle.
Because the best thing is the handling. The BRZ steers like it has no weight to deal with. It doesn't

appear to roll, pitch or dive. It's neither nose nor tail heavy, just a sense of the front and rear working in perfect harmony. You steer, it goes and when the grip runs out (it was pouring with rain in Japan), the BRZ is almost totally neutral. And you get so much warning of when tha

t's about to happen. I was nervous when I found out it had electric power steering, but this has to be about the best system I've tried. the springy weighting is lovely and real sensations are fed back into your hands.
How best to describe it as an overall package? Keen. Eager. It's not puppy-ish in its enthusiasm, it's a bit more measured than that, but it's a lot of fun. Easily better to drive than a VW Scirocco; more agile and rewarding than any Audi TT. It may not have the lungs on a Nissan 370Z, but it's way more dextrous and I can't think of any hot hatch except possibly the Renaultsport Clio that provides as much satisfaction.
You can still tell that it's a Subaru at heart not just in the engine, but the steering and manual gearbox. It is like they've let Lotus loose on the chassis. Well, almost. The light frame does get a bit thrown by big bumps, but it never feels unnerving, instead it inspires confidence.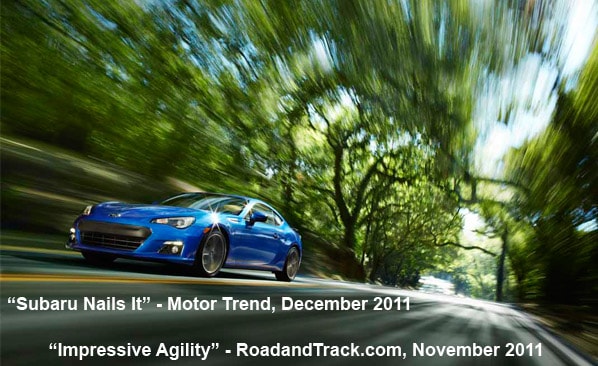 Check out these links for detailed info and reviews on the exciting debut of the Subaru BRZ!
As Motor Trend says, "Subaru Nailed it!. If you love driving, you're going to love this Subaru."
MOTOR TREND REVIEW
"Subaru Nails It"
ROAD AND TRACK REVIEW
"Impressive Agility"
CAR AND DRIVER
"The BRZ is a Knockout!"
TOP GEAR
"If you enjoy driving...this is the car for you."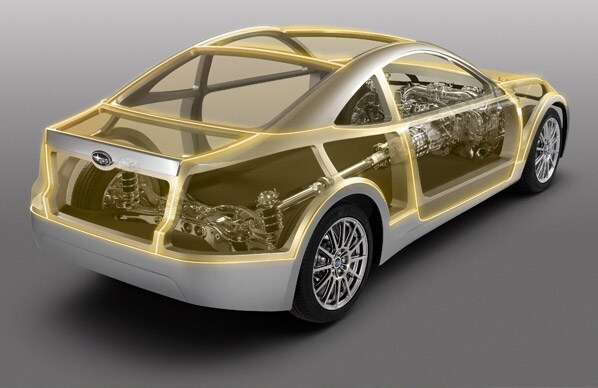 The Subaru BRZ has been built from the ground-up to make the most of the advantages of its all-new SUBARU BOXER engine. The center of gravity is the lowest most drivers will ever have the pleasure to experience. The resulting balance gives the BRZ an ideal mix of precise handling and lively response. Subaru completed the package with a double wishbone rear suspension and limited slip differential. Insert yourself inside the sculpted bodywork and it just keeps getting better. Any car can wrap the driver in expensive gadgets and appointments. The BRZ has been meticulously refined to wrap the driver in pure sensation. Including a six-speed transmission or available six-speed auto with paddle shifters.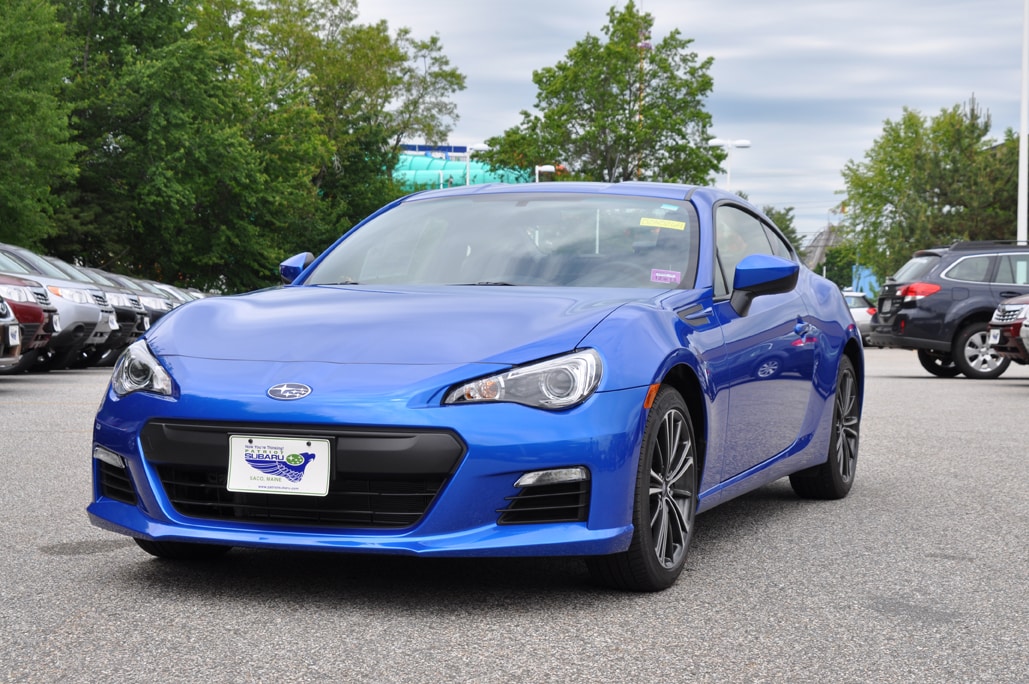 Give us a call at Patriot Subaru, and let's talk about one of the most exciting new vehicles to hit the road in years! 1-866-284-7900, or come on in for a visit! Patriot Subaru, 769 Portland Road, Route One in Saco.