Patriot Subaru welcomes the newly redesigned 2018 Subaru Legacy! The 2018 Legacy is refreshed and refined with plenty of enticing upgrades. If you're looking for a 2018 Subaru Legacy for sale near Portland, ME check it out here at Patriot Subaru in Saco, ME!



Here's our Patriot summary:  Overall, the 2018 sees stylish refinements to the exterior, delightful improvements on the interior, added technology, and of course Subaru's never-ending quest for greater safety.  Enjoy a quieter ride and more responsive handling, all behind the very best all-wheel drive system on the road today - the 2018 Subaru Legacy is one of the very best mid-size sedans you can buy! 

Here are the primary changes from the 2017 Legacy:

Even though the '18 Legacy is the same width as the '17, it has the appearance of a wider more powerful stance.  The exterior boasts a sportier and more elegant look, featuring:
•    Wider and lower grille openings and a new front bumper provides a sportier look
•    New C-shaped headlights feature the "Konoji" daytime LED running lights.
•    Two new high-contrast sporty wheel designs
•    Two handsome new colors - Magnetite Gray Metallic and Crimson Red Pearl
•    Redesigned tailpipe integrated into the lower fascia
•    Available with LED fog lights
•    Available Steering Responsive LED Headlight System aims the headlights into a turn as the driver steers.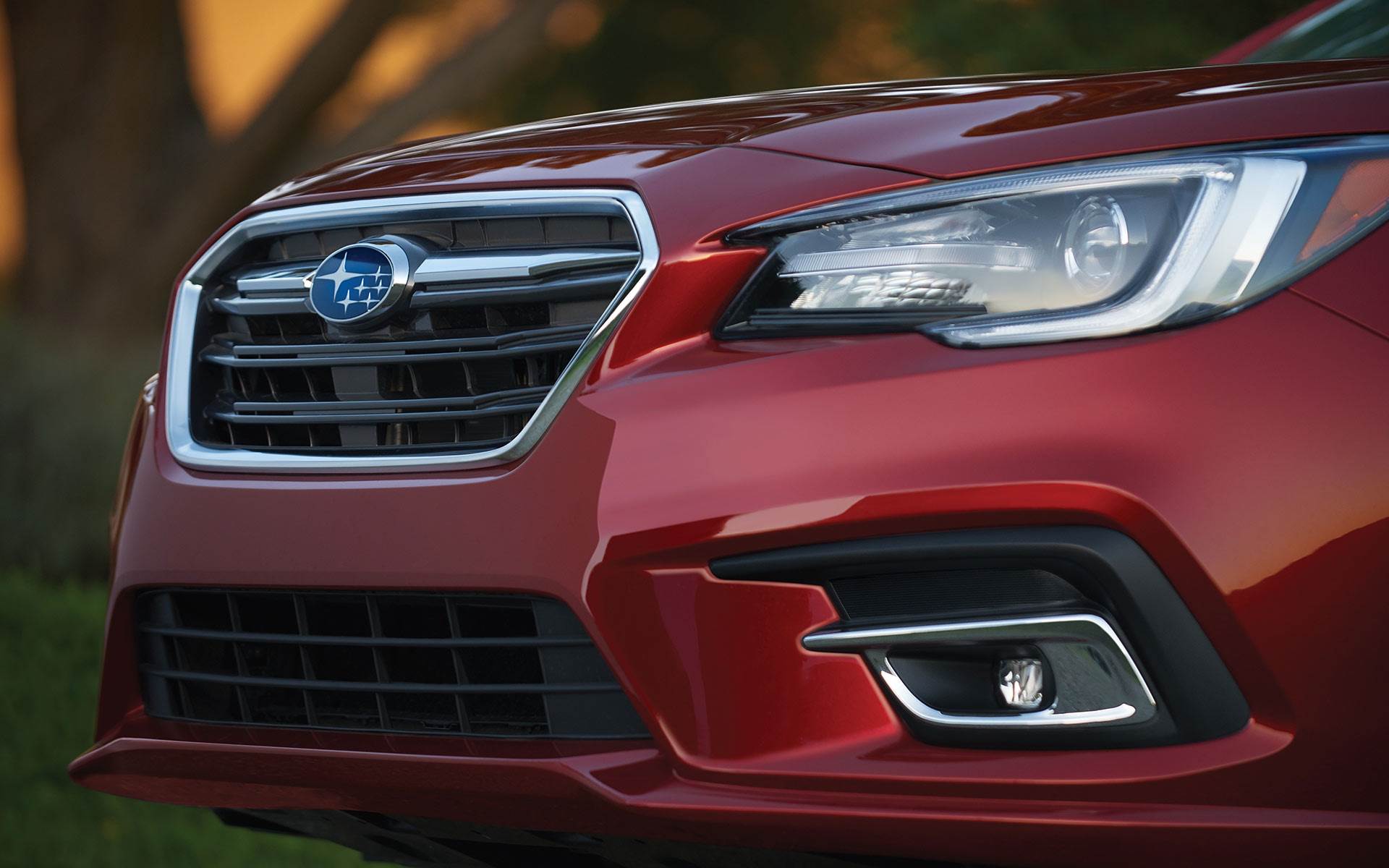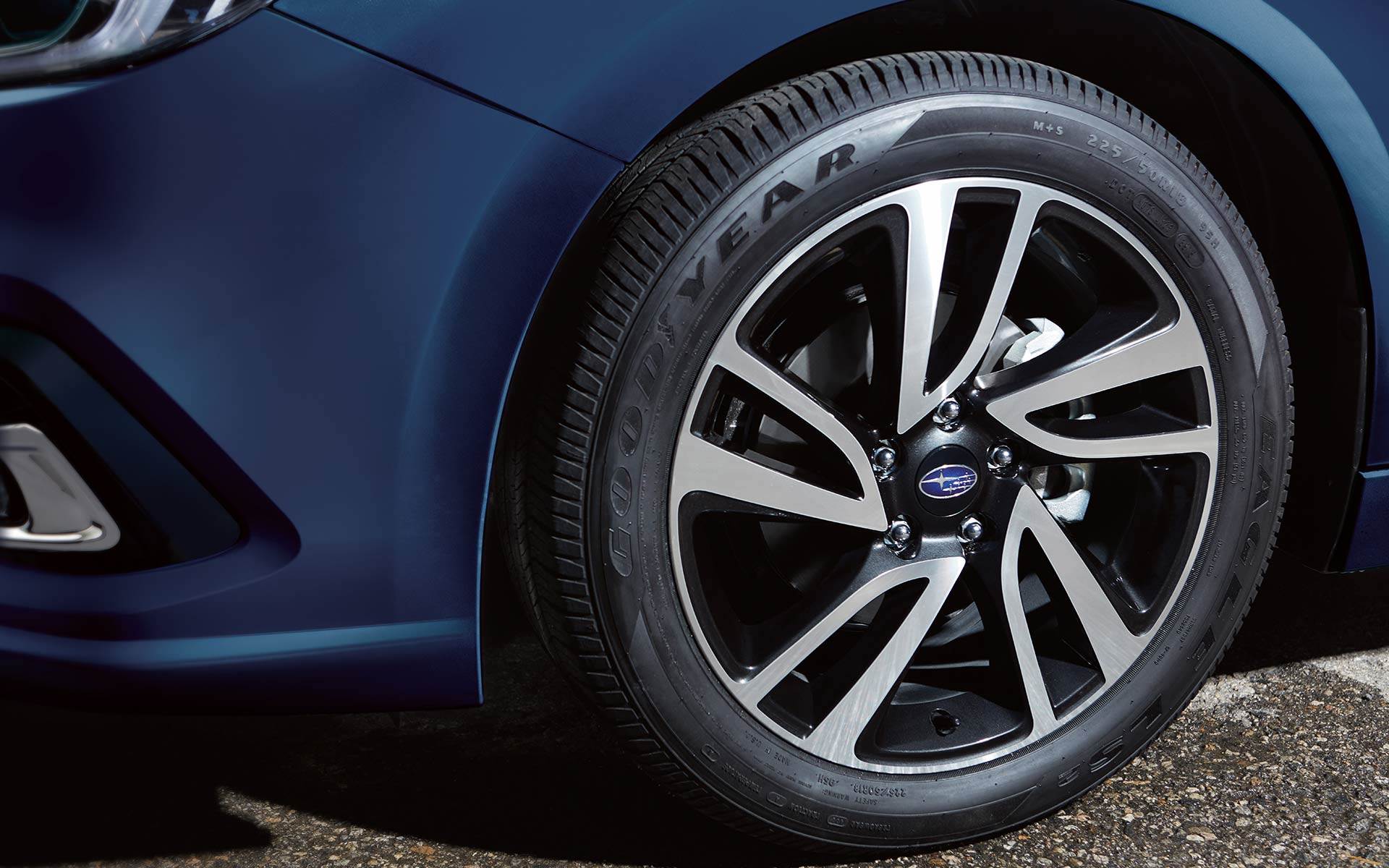 The ride is going to be even better! Subaru dissected the Legacy with the goal of improving the driver's comfort and drivability, while making the ride smoother and quieter.
•    On the suspension, the dampers were retuned to further reduce initial impacts of road bumps, while also
     reducing body roll. It will feel more agile and more comfortable to drive
•    Improvements were made to the Electric Power Steering system (EPS) to create a better feel for the driver
•    The brake pedal has a firmer, direct feel for driver confidence

Interior Features and Design
While the exterior changes are impressive, the upgrades to the interior go even further. The combination of new premium materials and enhanced multimedia capabilities creates a package that is upscale, exceedingly comfortable, and fun to drive!
•    A redesigned center stack, has a standard 6.5 inch touch-screen infotainment system (up from 6.2)   Screen
     graphics are colorful and vivid!  The menu is easy to follow and intuitive to use.
•    An 8 inch display is also available - one of the largest in its class of midsize sedans
•    New - Smartphone integration with Apple CarPlay and Android Auto
•    Top-tier touch screen with TomTom navigation with 3 years of maps updates
•    Dual USB ports
•    Bluetooth hands-free calling
•    Voice control
•    Ipod control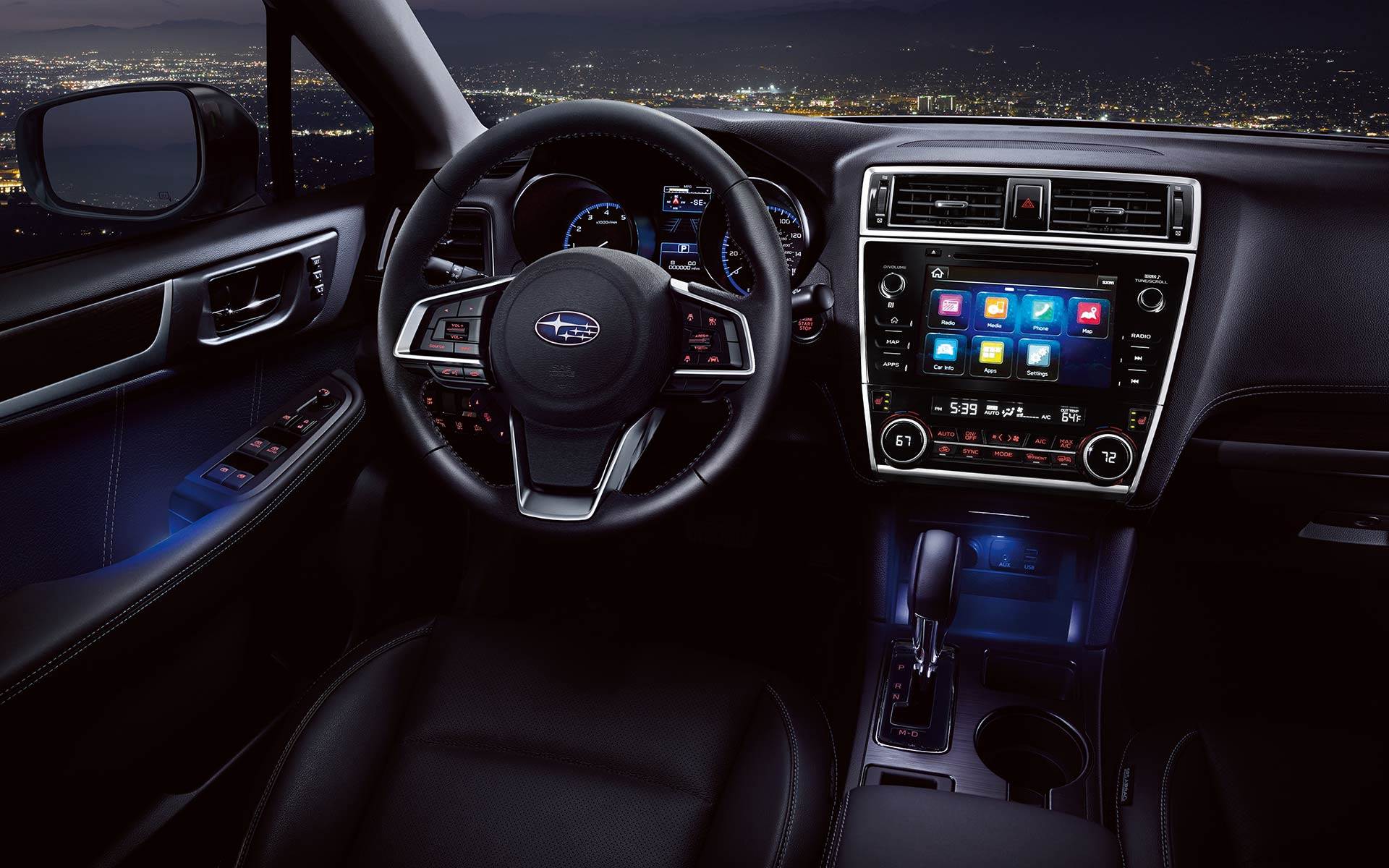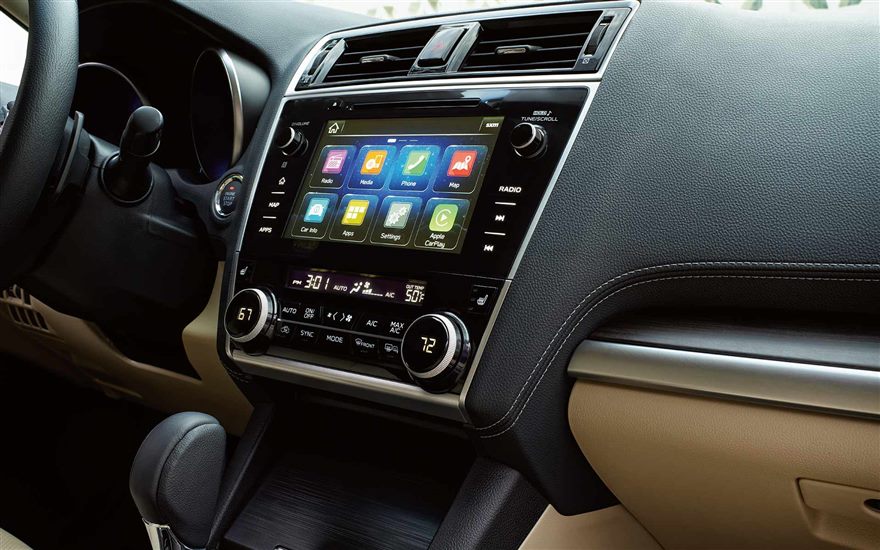 Other comforts include:
•    New steering wheel design with leather wrapping
•    Repositioned climate controls for easier operation
•    An improved AC system cools the cabin faster
•    Premium and higher trim models feature silver stitching on the dash, seats and door panels that complement
      high-gloss black trim and silver-color bezels for various
•    In addition to black and ivory interior, the Legacy now offers a new Titanium Gray option
•    When you turn the vehicle off, the interior power stays on for a short time. Great if you forgot to roll up the
     windows, or if you want to leave them open a crack.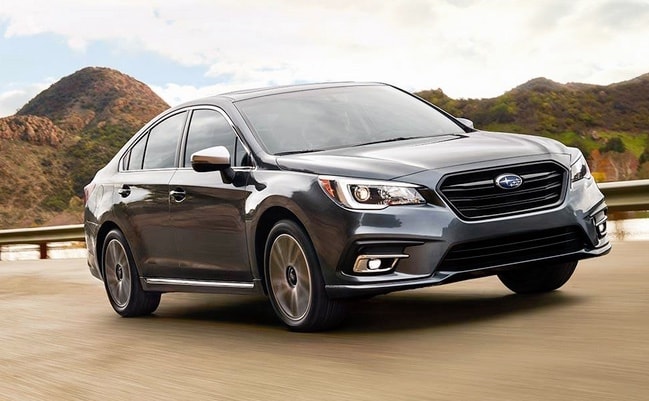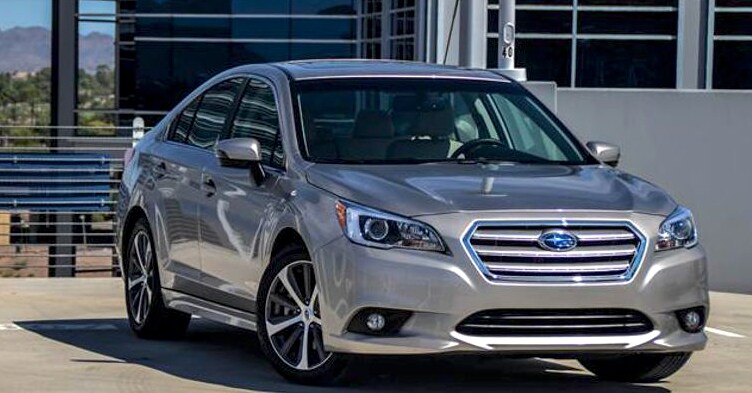 Performance
The 2.5i '18 Legacy stays with the 2.5-liter four cylinder engine/175 hp and the 3.6-liter six cylinder engine/256 hp. Retuning adjustments to the Continuously Variable Transmission (CVT) on the 2.5-liter engine employed a quieter ultra-short pitch chain and adjusted engine timing under acceleration to reduce powertrain noise.
New Sound-insulating inner glass film plus reshaped exterior mirrors reduce noise entering the cabin. The rear wheel well liners were given thicker insulation to also reduce noise.
Safety Features
Subaru never stops building and improving advanced safety features into all their models. Even with Top Pick IIHS Safety Pick Plus credentials on the '17 model, the '18 version has a host of safety updates.
•    Referenced earlier - Steering Responsive Headlights
•    Automatic headlight dimmers will turn the high beams off as other vehicles approach
•    Reverse automatic braking will detect objects in its path while backing up with an audible alert, as well as          visual warnings.
•    Updates to the Subaru Eyesight® system.  Cameras and radar sensors provide adaptive cruise control,   
     pre-collision braking, lane departure warning, and lane keeping assist.
•    The doors automatically lock at 12.5mph, and unlock when the car is parked and the driver's door is opened.
•    In the event airbags are deployed, the system unlocks all doors
•    A tire pressure monitor is now standard on all models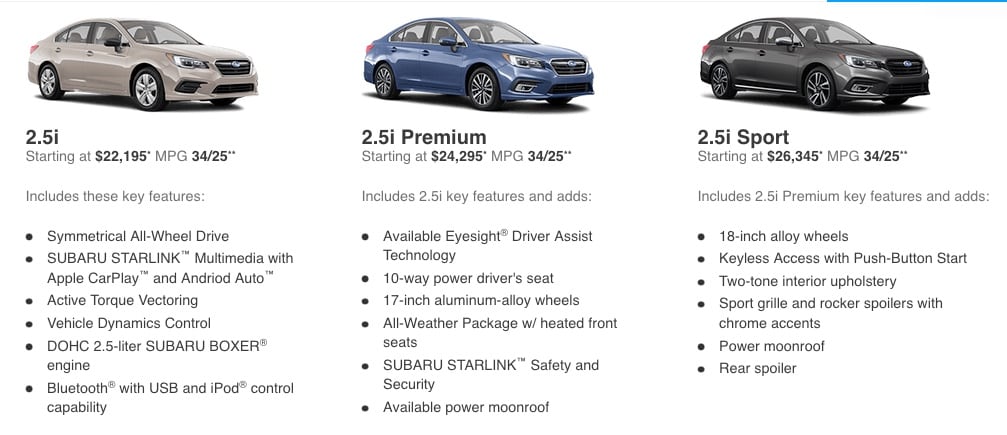 Pricing
Starting with the 2.5i base model at $22,195, the  well equipped 2018 Legacy 2.5i Premium lists at $24,295.  The Legacy 2.5i Sport starts at $26,345, the Legacy 2.5i Limited at $29,095 and the Legacy 3.6R at $31,945.
Your source for all things Subaru is Patriot Subaru, 769 Portland Road, Saco, ME 04072.  Hope to see you soon, we look forward to helping you find your inner-Subaru!