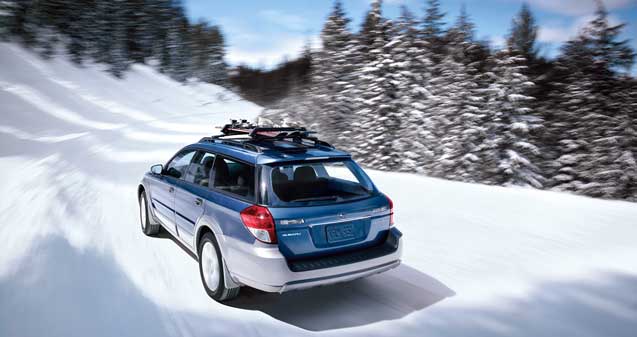 Winter driving can be challenging, particularly when you go from dry roads one day, to snow covered roads the next. Know that you have to make adjustments in the way the car handles, stopping distance, turning corners.  Give a little more distance between you and the vehicle in front of you. Your Subaru is without question a remarkable car in the snow, but it can not overcome a careless driver!
Be prepared, by winterizing your car and yourself for the trip.

Battery Check. When temps are zero, batteries lose half its cranking power. Keep terminals clean.
Visibility is key. Replace old, stiff wipers. Add wiper fluid. Use a scraper to remove ice rather than your wipers at start up.
Oil Change. Oil thickens in cold - be sure to have right weight.
Cooling system check. Yes, your car still gets hot in the cold! Old hoses crack in the cold. Renew antifreeze and adjust water ratio from 50/50 to 60/40 or

70/30.

Check tire tread depth and tire pressure.

Protect finish with a wax.

Have floor mats for the salt you track in with your boots.

Cars today technically don't need "warm up", but giving it a minute before driving helps the oil to thin out and flow better.

Handy emergency kit - flashlight, flares, jumper cables, blanket-hat-gloves, snow brush, extra wiper fluid, snacks/water.

Patriot Subaru stands ready to give your vehicle a solid winter tune-up, so you'll never have to worry. If you are driving to work, you might be dressed appropriately for the job or office, but what if you get into a situation while driving?  Having an extra coat, scarf, hat, and gloves will sure come in handy!
Be sure to visit Patriot Subaru for a winter-tune up, and be prepared for Mother Nature!