Patriot Subaru Earns 2013 Best Business Award From ecomaine!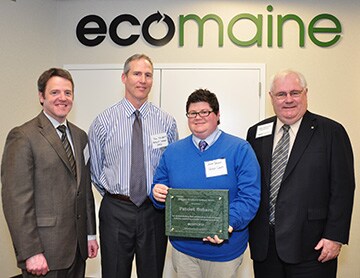 Patriot Subaru was proud to accept two wonderful awards of green recognition from ecomaine, a Portland based company that specializes in waste management and recycling. ecomaine honored businesses, schools, organizations and citizens from 21 Maine towns in a special ceremony that cited each groups individual and collective efforts to improve the environment and community. Patriot Subaru was given the eco-Excellence Award for the town of Saco. Each community award recipient was acknowledged for the unique way that they created programs that were implemented. At the end of the ceremony, Patriot Subaru was awarded with a second award, the 2013 ecomaine Best Business Award, of which we are very proud.
Jackie Parker, a Green Team leader at Patriot Subaru accepted the award on behalf of the dealership. She was joined by Tom Talbott, who nominated the dealership, and serves as the company's marketing director. In the photo, they are flanked by ecomaine General Manager, Kevin Roche (L) and Mike McGovern, ecoMaine Chairman of the Board.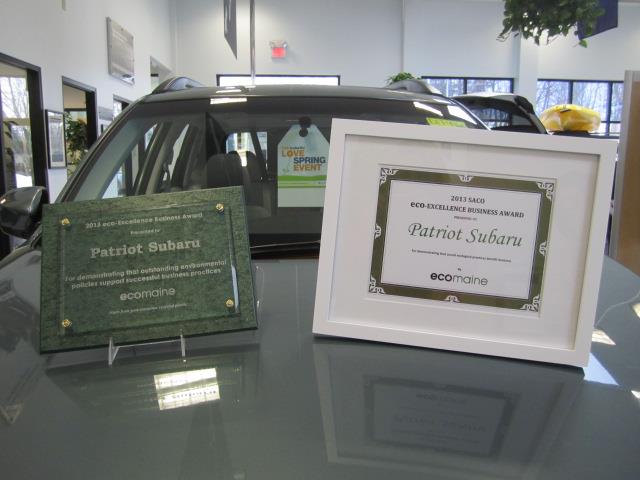 ecomaine is a non-profit waste management company owned and operated by 21 municipalities in Southern Maine. With an additional 25 contracted communities, ecomaine provides services to a combined population of 336,000. The company is dedicated to recycling and environmental protection, as evidenced by ISO 14001 certification for excellence in environmental management in each of their three facilities. The three waste management facilities include a waste-to-energy plant, a landfill/ashfill site and a recycling operation, and are located just west of the Maine Turnpike at Exit 46.

For more information just click: //www.ecomaine.org/