During the Share The Love Event,  Subaru donates $250 to charity for every new Subaru sold.

When the customer selects one of our local charities, Patriot adds $50 to the donation, and $3 for every routine service visit during the course of the event.

THROUGH THE "SUBARU SHARE THE LOVE EVENT", PATRIOT SUBARU HAS EARNED $380,501 FOR LOCAL SOUTHERN MAINE CHARITIES SINCE 2013.  THANK YOU SUBARU!
2020-2021 Local Charities:  Once again, our friends at STRIVE and Ruth's Reusable Resources! 

2019-2020 Local Charities, STRIVE and Ruth's Reusable Resources.
When it was all tallied, up, we presented STRIVE with a check for $38,985, and 3R's with a check for $41,125.   Another amazing year!
2018-2019 Local Charities:  STRIVE and Camp Sunshine
The Result: Patriot presented Camp Sunshine with a check for $49,213.  Amazing!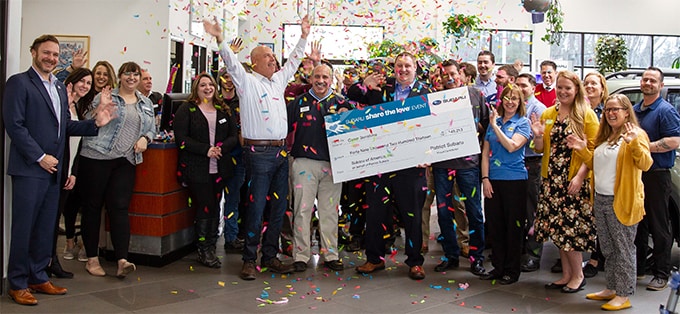 Next, Patriot presented STRIVE with a check for $31,963.  Fantastic!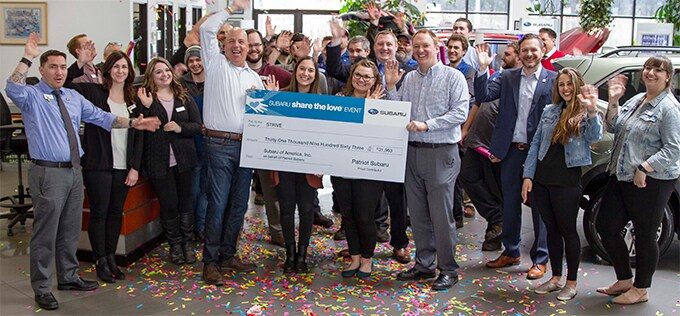 Check out what happened in 2018!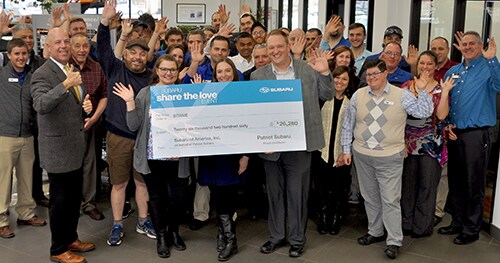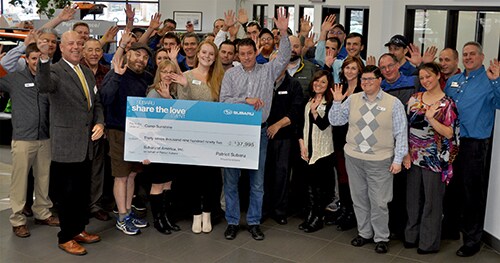 Two big checks presented: STRIVE: $26,260,  and Camp Sunshine $37,995.


Events: Saturday Nov 18th -  STRIVE Bar-B-Que at Patriot Subaru.  The crew served up
burgers and dogs, while also collecting canned goods for the Saco Food Pantry.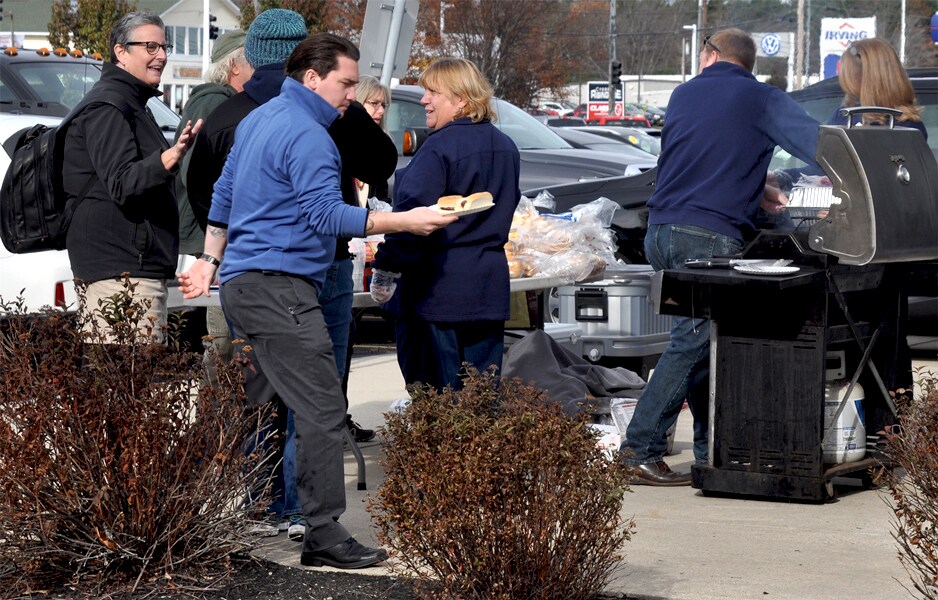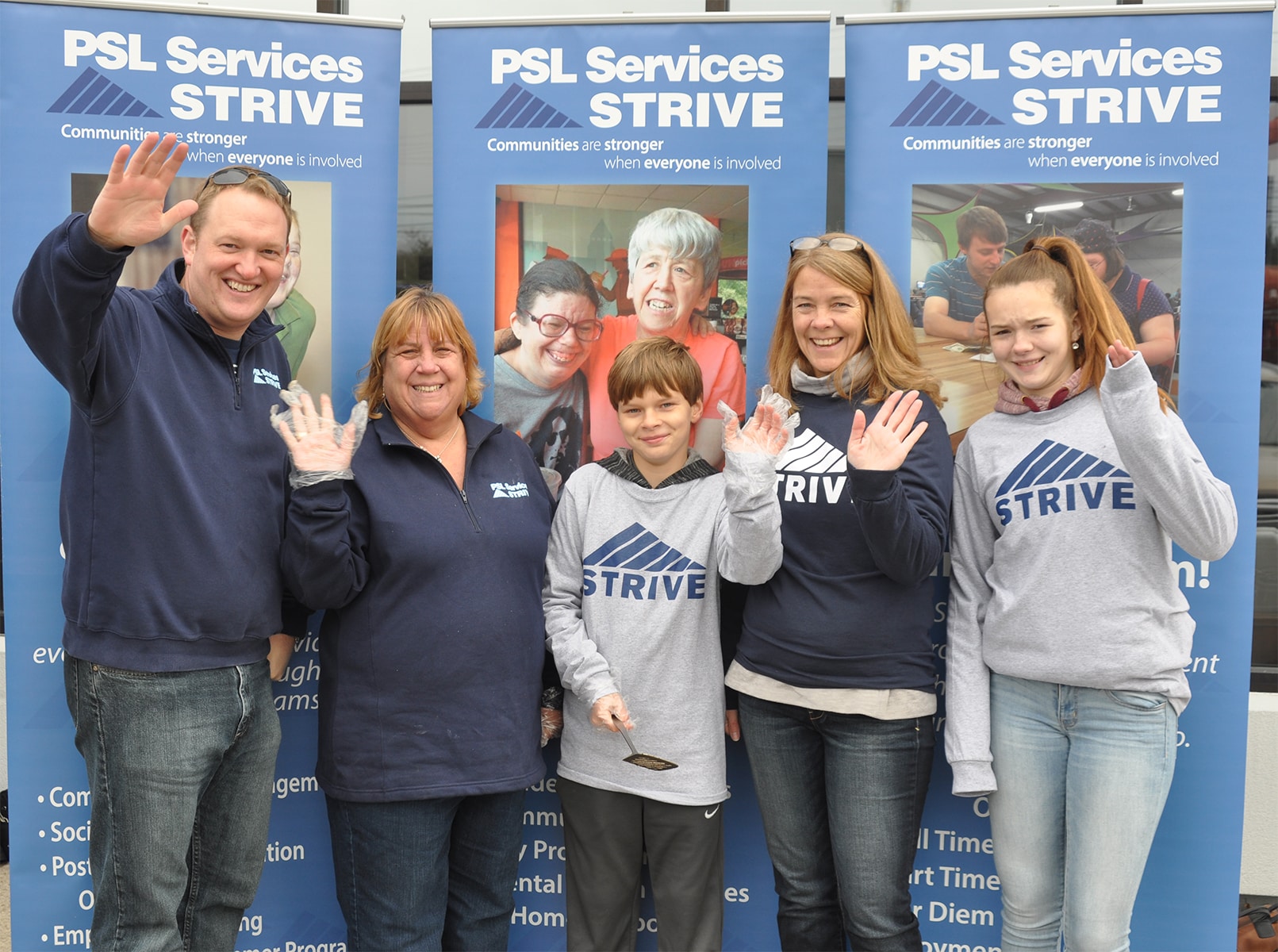 Saturday Dec 9th - Camp Sunshine Chili-Fest. The best chili you've ever had, prepared with love by Camp Sunshine.  Plus, Bone Marrow Donor Matching testing arranged.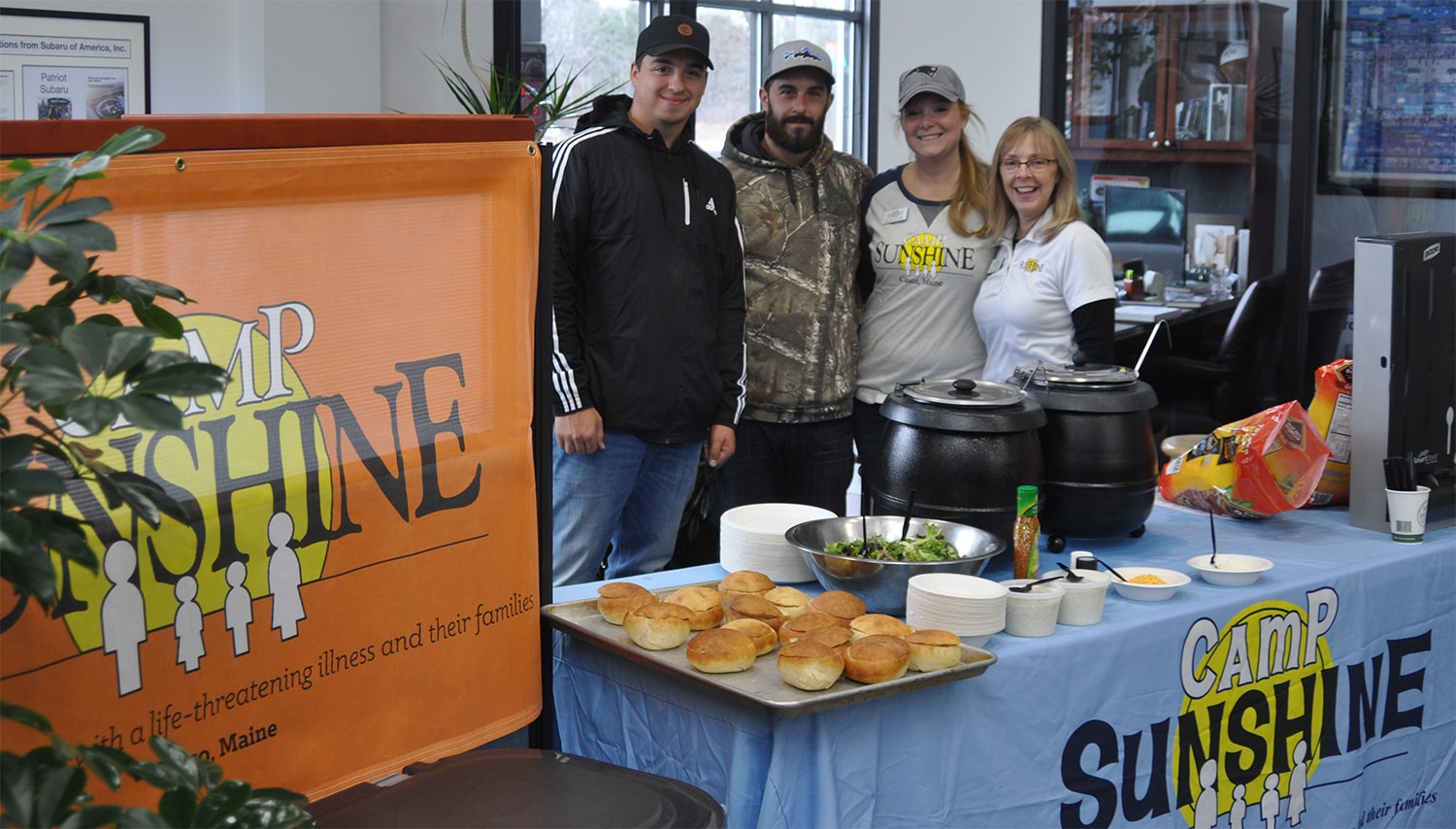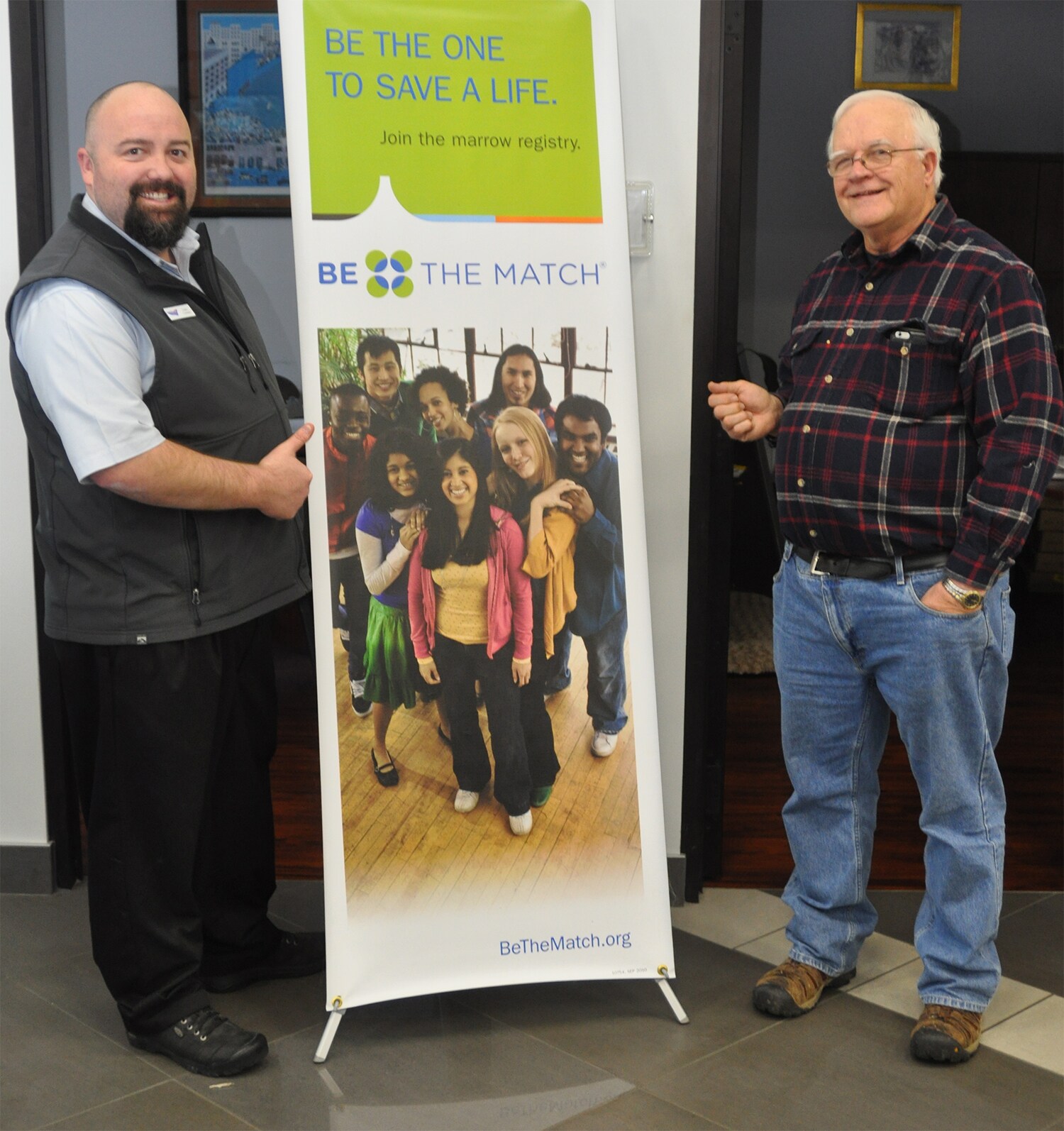 _______________________
2016-2017  Patriot Partners:
STRIVE, South Portland, ME and Camp Sunshine, Casco, ME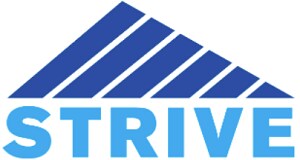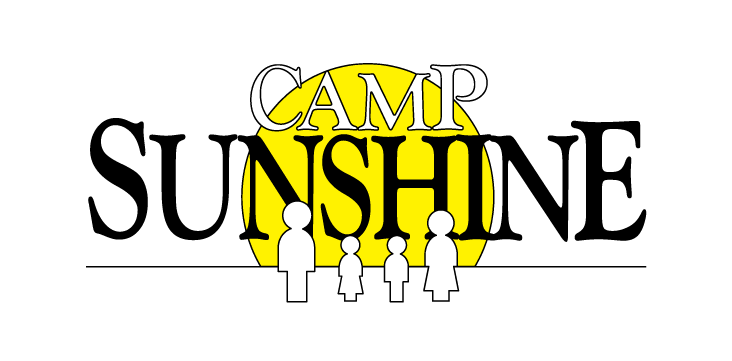 Patriot Subaru was proud to team up with two wonderful organizations that help our community.
• STRIVE - dedicated to helping young people ages 11-24 with developmental disabilities.
• Camp Sunshine - a retreat for kids with life threatening illnesses and their families.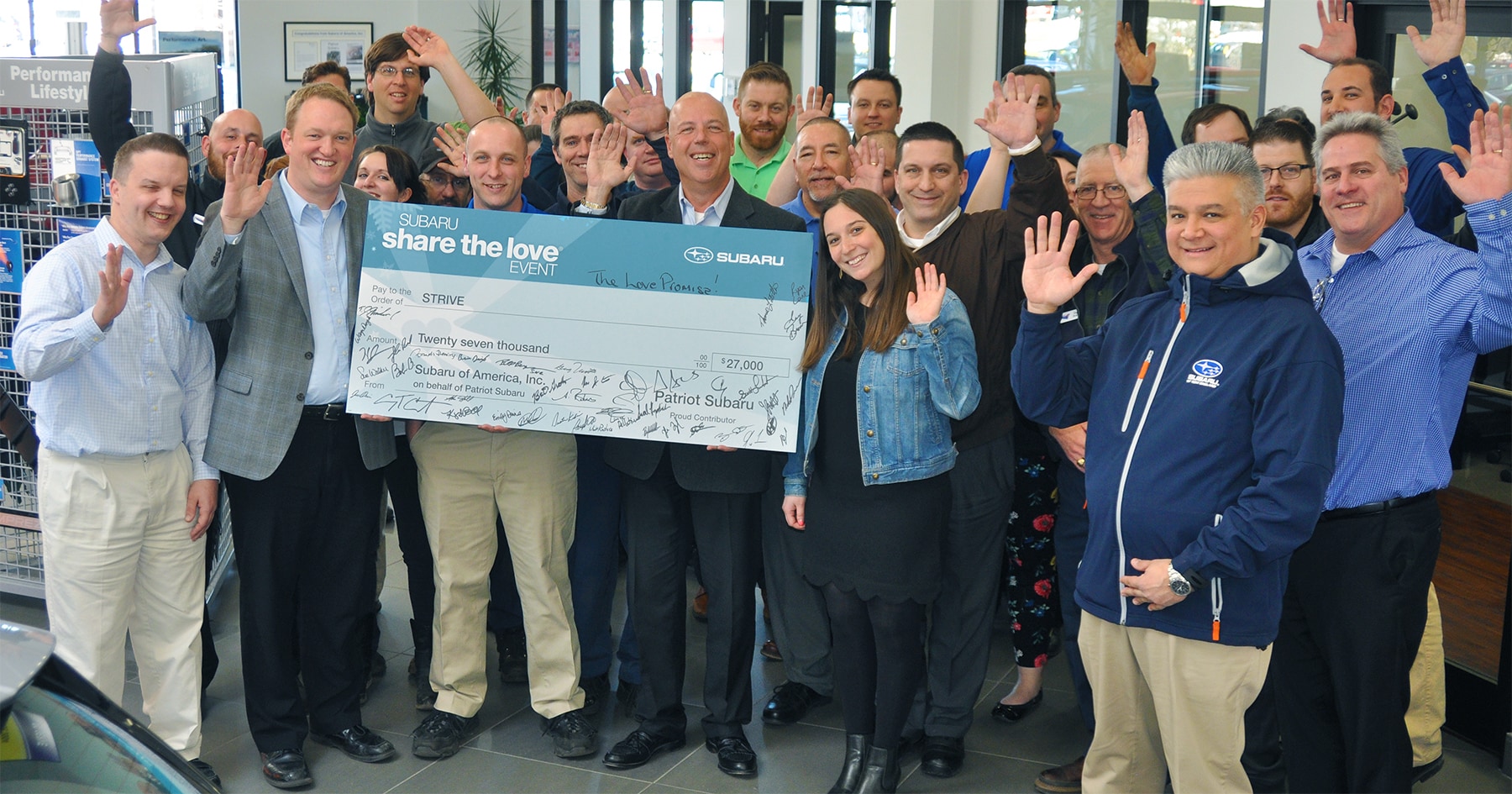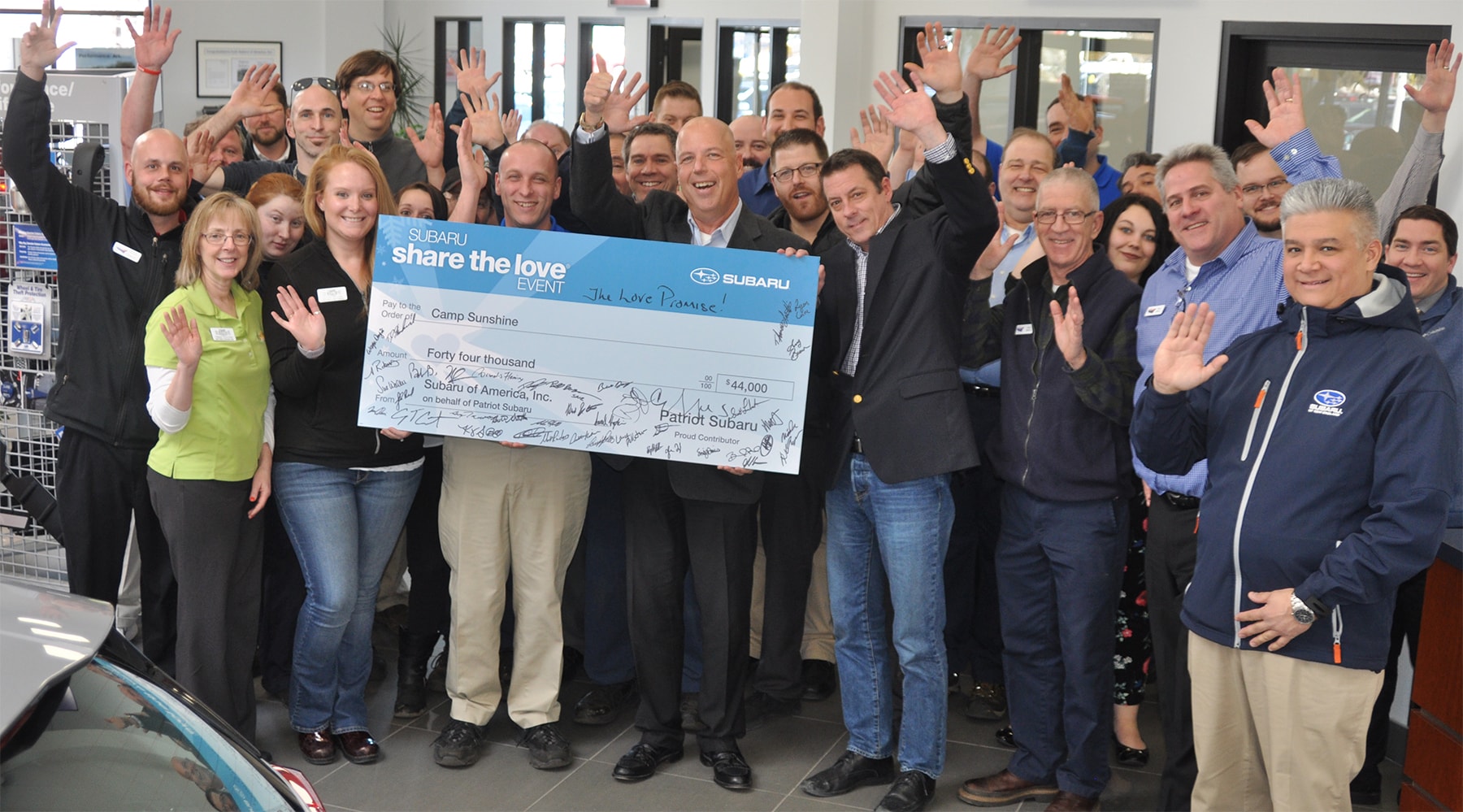 THE RESULTS: Patriot Subaru Share The Love Event raised $27,000 for STRIVE  (L) and $44,000 for Camp Sunshine(R)!  
A combined total of $71,000!November 19th, 2016:
  "Drive and STRIVE BBQ" at Patriot Subaru was great! The Red Cross collected 20 pints of life-saving blood, and then volunteers from STRIVE served over 200 people burgers and dogs from the BBQ!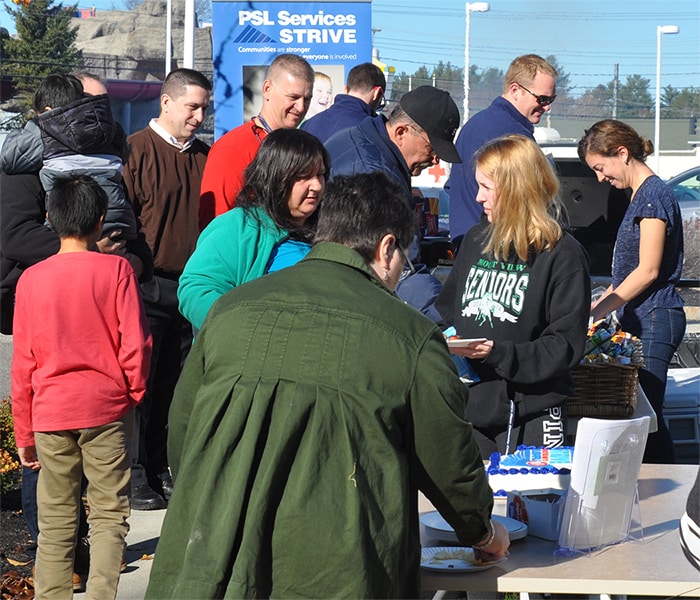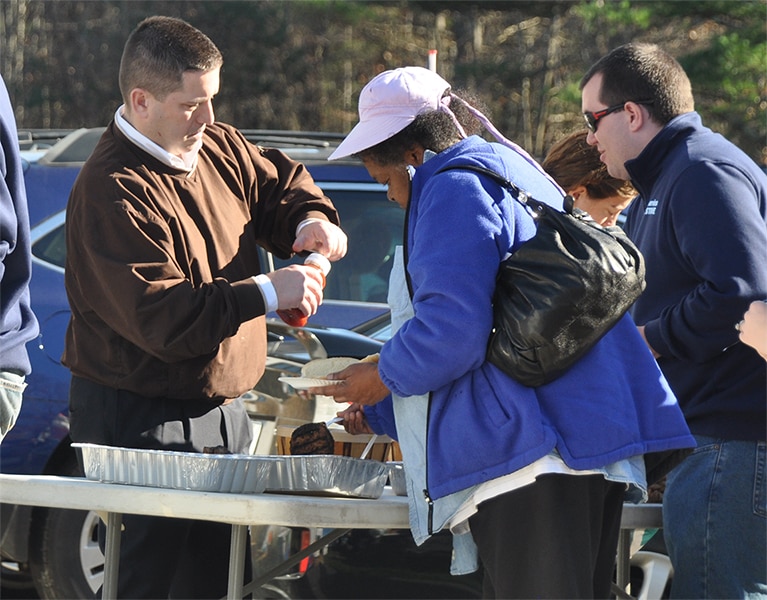 December 3, 2016: Camp Sunshine "Be The Match" Bone Marrow Registry and Chili Cook-Off! 
Great day!  Camp volunteers served up bowl after bowl of delicious chili prepared by the Sunshine chefs to associates, customer, and friends.  We had 7 people go through the Bone Marrow Donation application process, with swab test, and many more interested. It's a life saver!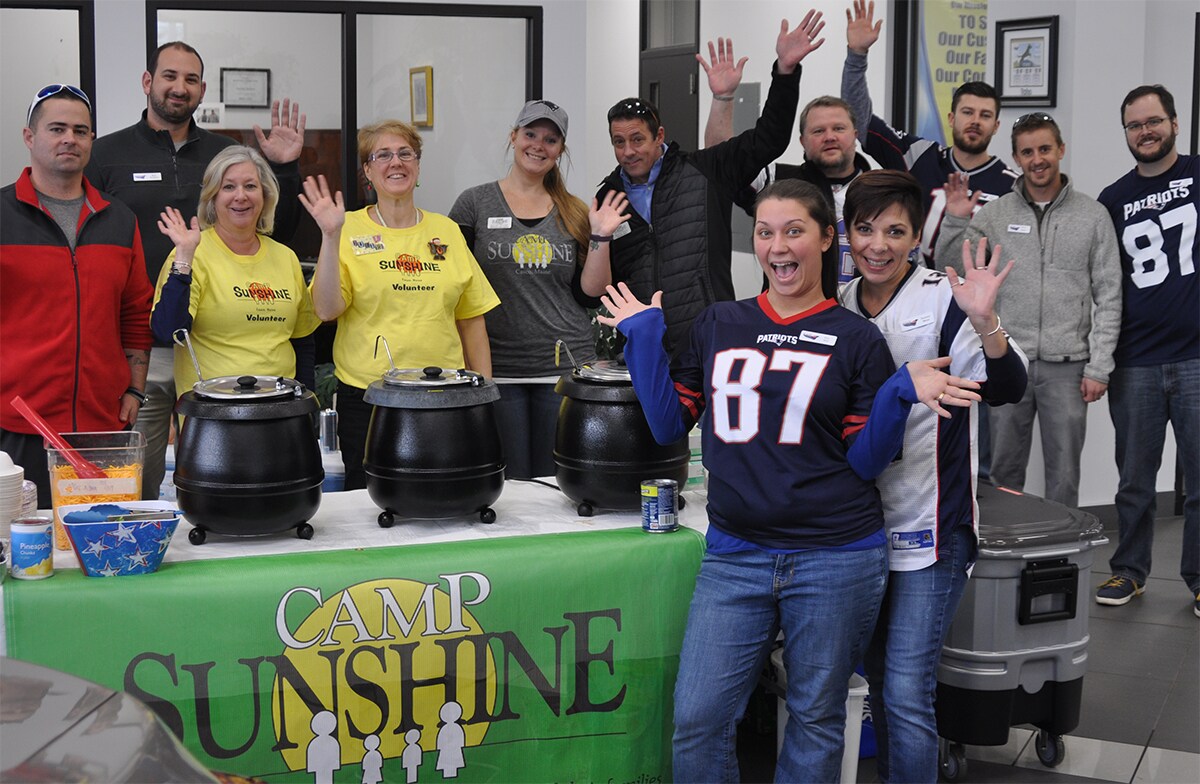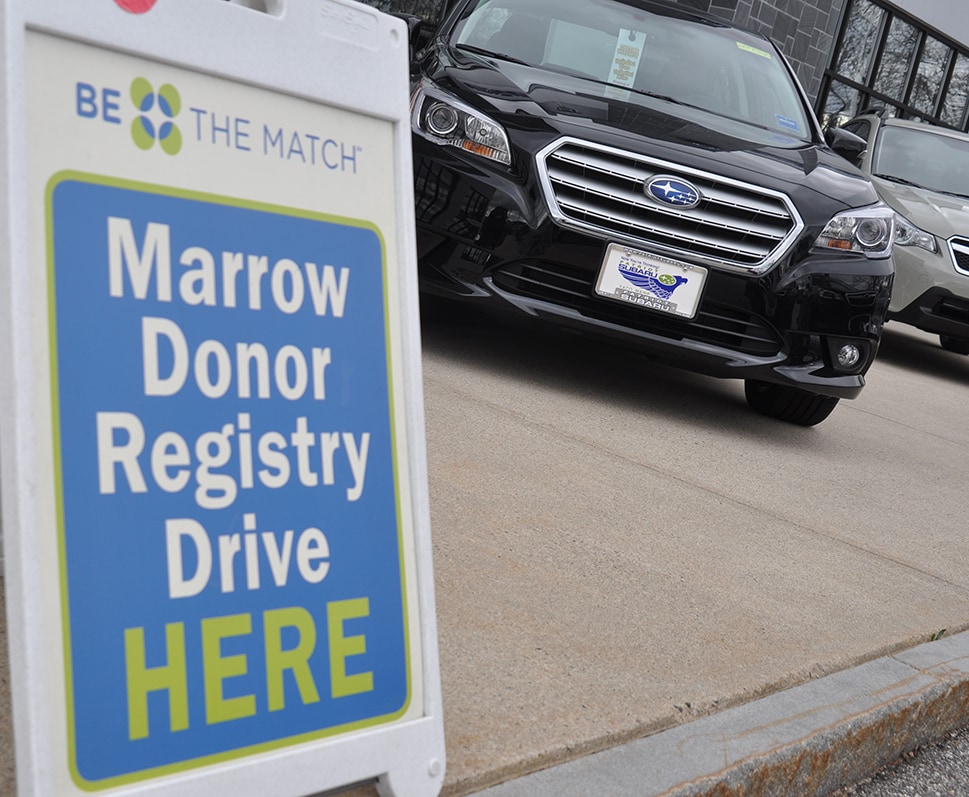 ***********************************************************************
2015-2016  Patriot Partners: Preble Street, Portland, ME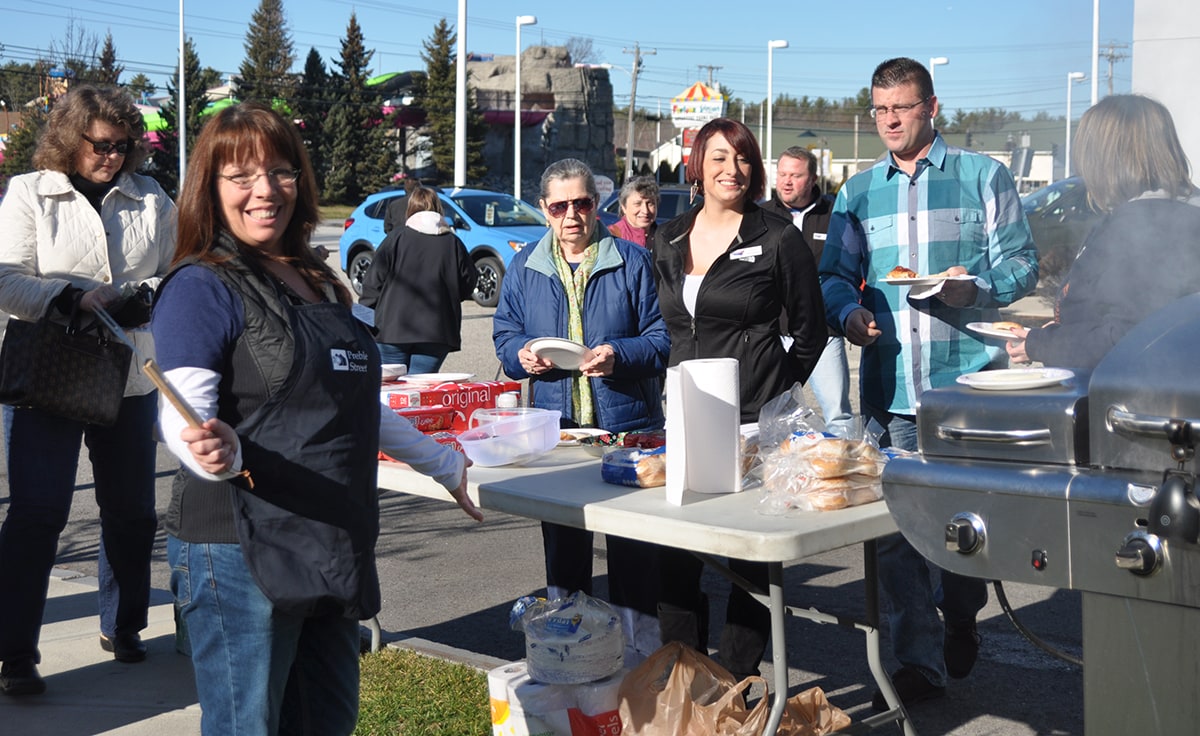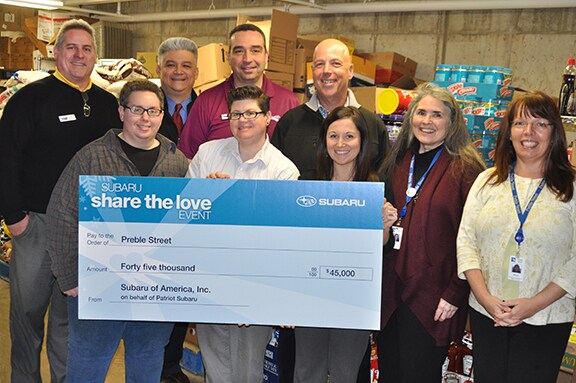 Nothing like a November BBQ! Perfect timing this year, sunny and just right. Customers and friends enjoyed our great BBQ abilities. Manning the spatula is Melanie McKean from Preble St, ready to serve a hungry crowd. Preble Street, a Portland-based organization that works to create solutions for homelessness, hunger, and poverty. By the end of the Event, many customers had placed their $250 Subaru donation on Preble, resulting in a check for $45,000
!

This brings Patriot's two year total donation via Subaru to Preble Street to an impressive $87,000!  What impact does that money have? Preble Street's buying power can turn those dollars into approximately 609,000 pounds of food, primarily staples such as milk, pasta, cereal, sugar, coffee, ground beef, and pancake mix for its soup kitchens and food pantry. Donations also cover overhead costs, such as facilities and equipment, and social work staff who work to help people move beyond poverty.
In addition, over the two seasons working with Preble Street, Patriot set aside a Forester in the showroom, and through social media channels asked folks to drop off a canned or boxed food good.  We did this for five weeks each time, adding up to nearly 1000 extra pounds of food goods.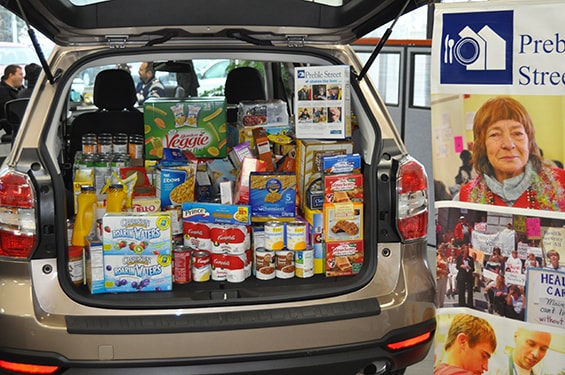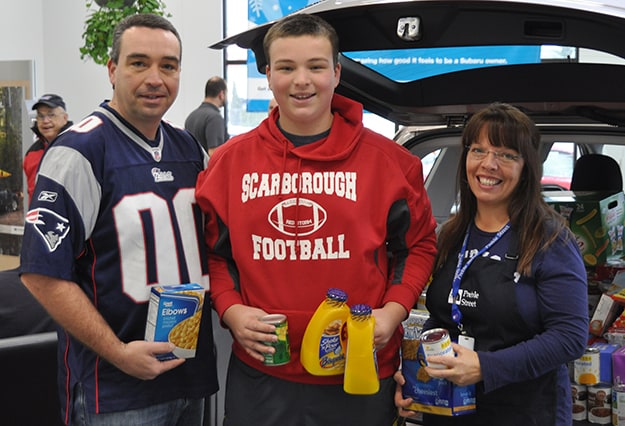 What's our secret to success?  Juggling!  Patriot Subaru Service Manager Glen Reed #00, went toe-to-toe with Preble Street's Executive Director, Mark Swann.  It was amazing!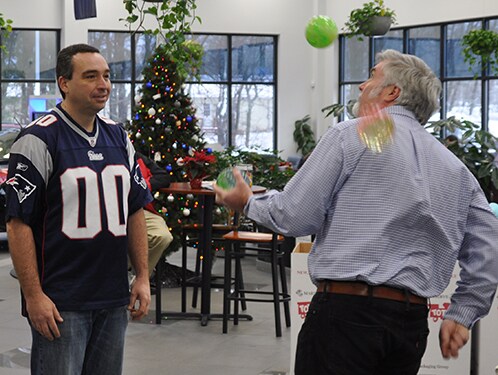 ***********************************************************************