Regular auto maintenance is essential to maintaining the performance we expect from our vehicles, but we don't always have the time to schedule an appointment, take time off work, or deal with finding alternative transportation while our cars are repaired. The good news is you no longer have to.
Thanks to our Subaru Express Service, you don't need to book an appointment with our service department if you need to take care of an oil change, tire rotation, or wiper blade installation. Our team is here to help you tackle your vehicle's routine auto maintenance on your schedule. Not ours.
What Is Subaru Express Service?
Subaru Express Service is here to help you bring your vehicle in for routine auto repairs without an appointment. Just pull into the Patriot Subaru Express Service lane at our auto shop near Portland.
No-Appointment Oil Change
If the oil-change light has illuminated on your vehicle's dashboard swing by our Subaru dealership for a quick Subaru synthetic oil and filter change. There's no appointment needed. Wait in our service lounge and enjoy a complimentary bottle of water or use our Wi-Fi to handle your business
In fact, you don't need to schedule an auto repair appointment for any of our Subaru Express Service options:
Conventional and Synthetic Oil Changes

Tire Rotation
Engine Air Filter Replacement
Cabin Air Filter Installation
Wiper Blade Installation
Light Bulb Replacement
Tire Pressure Test
Wait Times

We have two service technicians always at the ready. However, note that if several cars arrive right before you do, there can be a wait. In that case, we will let you know the expected wait time.

When you come in for a Subaru tire rotation or any of our Subaru Express Service auto repairs, be sure to browse our current parts specials and discounts on Subaru auto repair in case there are other maintenance needs you would like to be resolved during your no-appointment oil change.
Patriot Subaru Express Service in Saco, ME
As Subaru owners, we care about our vehicles and want to keep them running like new. It's often the case that we only need to take care of a minor maintenance issue, but don't schedule a service appointment because it seems like a hassle, so we let it go.
Unfortunately, that's when minor issues can become major problems. That's why we offer express auto repair at Patriot Subaru and don't require an appointment for our Subaru Express Service.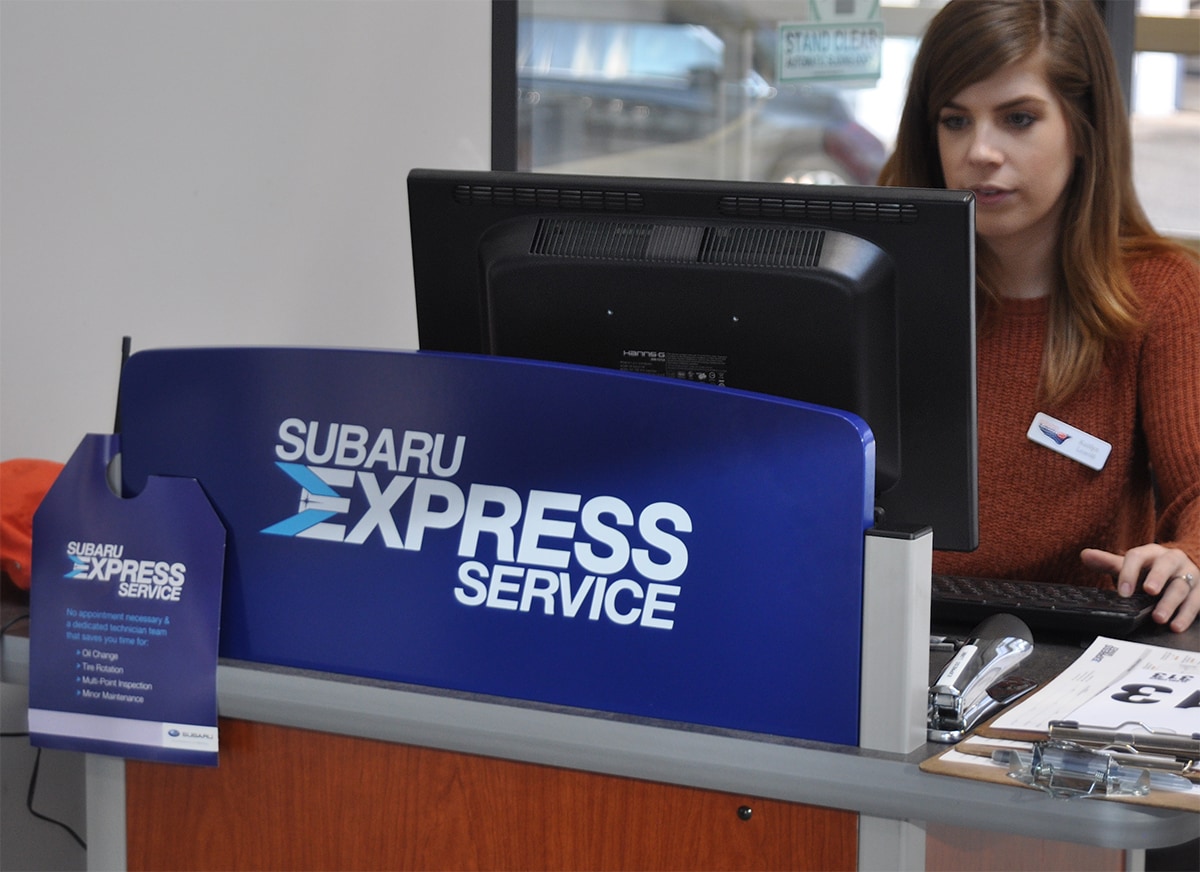 EXPRESS HOURS
Monday - Saturday 7:00am-7:00pm
Closed on Sunday