The 2022 Subaru Love Promise Customer and Community Commitment Award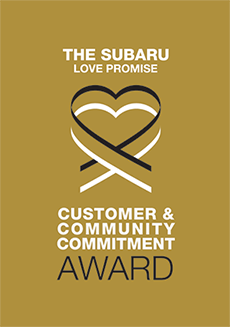 We've been nationally recognized for our dedication to our customers, our community, and the Subaru Love Promise.
We're honored to receive the 2022 Subaru Love Promise Customer and Community Commitment Award. This award nationally recognizes elite Subaru retailers who provide an exceptional customer experience at every interaction with Subaru. These retailers have also demonstrated an outstanding commitment to supporting passions and causes in their local communities in important areas such as the environment, community, health, education, and pets.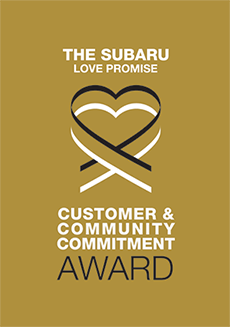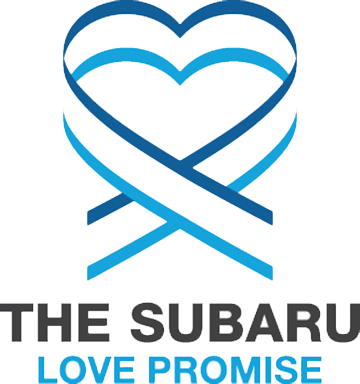 What is the Subaru Love Promise?
Subaru and our retailers believe in making the world a better place and the Subaru Love Promise is our vision of respecting all people. This is our commitment to show love and respect to our customers and to work to make a positive impact in the world.
How is Patriot Subaru of Saco dedicated locally to the Love Promise?
At Patriot Subaru, our Love Promise to New England and to the Maine area can be seen in our eco-friendly practice and in our partnerships with local nonprofits and charities. We're grateful for the opportunity, not only to be a part of the Saco community, but to serve it as well.
Paws in the Park 2013 , Buddy Up Animal Society, Animal Refuge League
Zero-Land Fill Facility, Energy Star Small Business
Big Brothers Big Sisters, ME Public Broadcasting Network, American Red Cross, PRIDE Portland!
Love Promise Stories from Patriot Subaru of Saco
Subaru and Patriot Subaru of Saco believe in making a positive impact on the communities in which we live and work. We uphold that belief through our Love Promise Community Commitment. Every month, we select inspiring stories from customers and partners from around our area who strive to support our collective commitment and feature them here
South Portland Food Cupboard - Dwayne H
The motto at the South Portland Food Cupboard is "Feeding Neighbors in Need". That is right in line with our thinking and the mission of our "12 Weeks of Giving" community program. During the week of February 7-12, Patriot raised money for the SPFC from the total number of vehicles sold, an amount that eventually totaled $1575. Members of the Patriot Subaru team paid a visit to their South Portland facility, where we met Executive Director Dwayne Hopkins and Warehouse Coordinator Jim Welch. The SPFC started in 1997, and is currently fielding a team of 130 dedicated volunteers who pick up donations, stock shelves, store safely, package, box and bag, and serve their clientele. We learned that our donation would feed 63 families for a month. That can only happen because the hard-working volunteers relentlessly track down quality resources for food, produce and personal care items, in part donated, in part purchased. Year round, regardless of weather, the SPFC team is hard at work, serving on average over 700 people per month. The love is real. The SPFC is located at 130 Thadeus Street, South Portland. Thank you South Portland Food Cupboard for all you do to help others.
---
Service Above Self with Portland Rotary Club - Tom T
Year "Number Two" for our Patriot Subaru "12 Weeks of Giving" program started by teaming up in January 2022 with the Rotary Club of Portland, Maine, delivering a $1000 donation to their charitable program! The Rotary motto is "Service Above Self", which is very much in sync with our Patriot Subaru mission statement, "To Serve". Rotary is an international organization, and the muscle is with 32,000 clubs in communities of all sizes throughout the world. Each club works to deliver financial as well as much needed "hands-on" support to their local area. The Rotary Club of Portland is no exception, with efforts going to directly assist field organizations that focus on hunger, clean water, health, literacy, youth programs, the environment, substance abuse and more. In addition to local concerns, Portland Rotary members have traveled abroad with their professional skills to implement programs for hearing aids, prosthetic limbs, water filtration systems, plus Rotary's commitment to bring the end to polio. We give all Rotarians a cheer, and appreciate everyone who is willing to volunteer their time, effort, and abilities to help and assist others. #LovePromise #RotaryClubofPortlandMaine
---
Helping Maine Needs - Angela S
For the month of December 2021, Patriot Subaru's "12 Weeks of Giving" supported Maine Needs, a Portland based organization that works to help individuals and families in Maine meet their basic, material needs by providing donated clothing, hygiene products, and household items. This is a grassroots non-profit, fully volunteer, that helps those who have struggled with financial hardships from all walks of life. With winter on us, the organization was focused on coats, boots, gloves, hats, and a whole lot more. For December, the Patriot 12 Week program earned $1525, which was greatly appreciated by the Maine Needs team. Our Internet Sales Department manager, Jackie Parker (R), delivered the donation, and board members Kaleigh Anderson and Bonnie Harlow provided a tour of the very busy operations. Excellent work, neighbors helping neighbors!
---
Serving The Saco Food Pantry - Jackie P
Patriot Subaru put out the word to our associates to bring in canned goods, non-perishables, and personal care items to help the good people who rely on the Saco Food Pantry, Saco, ME. In just a few days we had a significant amount ready to ship. Every item will be utilized, as the SFP provides essential services to over 8,000 people in-need throughout a typical year. That number continues to climb, so as much as anything, we hope this message reminds you to support a local pantry in your area. SFP visited us this morning, and our team packaged everything up and packed up their truck. We thank the Saco Food Pantry and others just like them for their dedication and commitment for making a difference in people's lives. Thank you SFP! #LovePromise #FoodDrive
---
Lucy (finally) finds a home! - Jeana R
Lucy the cat was found as a stray by a good Samaritan. When she arrived to the Animal Refuge League of Greater Portland (ARLGP), the majority of her fur was missing and she was experiencing a severe skin infection. But despite her physical discomfort, Lucy's personality was full of charm! Over the course of several months, we patiently and diligently treated Lucy's skin. We watched her fur begin to grow back beautifully and her painful wounds heal. This October, thanks to Subaru Loves Pets, Lucy finally found her new beginning with her new human parents and canine brother, Roscoe. Lucy now lives on an island, and enjoys time outside chasing chipmunks and basking in the sun.
---
Warming Blankets Help - Megan G
Patriot Subaru Loves To Help, and is supporting the national Subaru campaign assisting adult homeless shelters by donating warm blankets for their clients. Patriot partnered with the York County Shelter Programs, and delivered 80 blankets down to their office in Alfred. These will be distributed to those in need at their various York county facilities. It is a small measure to provide some comfort, and a reminder that much more can be done. We greatly appreciate the dedicated work of the shelters, food pantries, and health services that organizations like the York County Shelters provide - work that goes on 365 days a year. Thank you for all you do to help our community members who are less fortunate. L-R Pam Buck/Director Human Resources YCSP, Erik Gatz, Rob Wells, and Andre Mercier from Patriot Subaru, with Megan Gean-Gendron/ Executive Director YCSP and Stacey Irving/ Physician's Aide YCSP. #SubaruLovesToHelp #LovePromise
---
Bon Appetit - Meals That Matter - James C
We'll start by saying how much we appreciate all the work of the charitable organizations we have supported and worked with this year, none more so than the Bon Appetit Community Meal Program in Biddeford. Grass roots, neighbors helping neighbors. A free meal to those in need, five nights a week. The meals are served at the Second Parish Congregational Church at 19 Crescent Street, Biddeford, prepared and ready-to-go by volunteers. Currently an average of 80 meals a night are provided, and that number keeps growing. Patriot Subaru raised $1350 from our first week of November sales program, donated to Bon Appetit as part of our "12 Weeks of Giving" program. If you would like more information, or would like to donate food, time, or money, please reach out to them. You can find info on their facebook page. To present the check, Patriot associates Sara Ellsbury and Jackie Parker on the wings, with James Cortright/Director and Stacey Marquis from Bon Appetit in the middle. Thank you Bon Appetit, for all you do! #LovePromise
---
Wearing Purple For A Cause - Gina T
Don't we look sharp all in purple! Patriot Subaru associates donned their finest purple apparel to show their support for October's Domestic Violence Awareness Month. Going a bit deeper we were supporting the Hope and Justice Project based in Aroostook County, where the sister-in-law of our Lead Receptionist, Gina Theriault works. Patriot presented Gina with a $500 donation to send up to the Hope and Justice Project. Everyone deserves relationships free from domestic violence, and we appreciate the efforts of the organization. When Gina asked if we could take a picture wearing purple to help raise awareness for the cause, we jumped in. You can show your support by going to the Hope and Justice Project Facebook page and post your purple pic. Just try to look as good as we do! #knowyourworth #loveisrespect
---
Need Help - Dial 211 - Nikki B
Patriot Subaru was dialed in for our October "12 Weeks of Giving" presentation, setting aside money for every car sold the first week of the month. This month, we put our resources to work for 211 Maine, an initiative that is supported by the United Ways of Maine, earning $1100 in the process. What is 211 Maine? For people who need assistance on life and family issues like food assistance/food pantry locations, mental health services, support groups or utilities services, you simply pick up the phone and dial 211. There you will be directed or connected to the services you need. You can also reach 211 by texting your zip code to 898-211, or visiting 211maine.org. Patriot Subaru is glad to help keep this program moving forward! #LovePromise Photo L-R, Patriot Mike MacDonald, Nikki Williams/ 211 Program Director, Patriot's Samantha Bock, Ian O'Brian, Rob Wells, Matt Rieders, and Steven Saucier, with Jason Ketterick/ United Way of Southern Maine.
---
Who Loves Learning? - Margaret P
Continuing our support for students, Patriot Subaru, in conjunction with the national Subaru Loves Learning program, donated $3000 to the local Biddeford, Maine Primary School. This money was channeled through AdoptAClassroom.org, and subsequently 6 teachers from the school were given a $500 credit to spend at the online store. To celebrate the moment, the teachers and faculty from the school came over to thank Patriot Subaru for the donation, which was a lot of fun. All mixed together from the left... Zoe Harriman, Nigel Wrightington, Beth Donahue, Ian O'Brien, Hope Andreychak, Melissa Jolly, Matt Rieders, Josh Williamson, Rob Wells, Julie Montalbano, Abby Gildersleeve, Samantha Bock, Peter Fasulo and Wendy LeBlanc. Patriot is so happy knowing this support will help the teachers, which will help the students, and we wish you all a great school year!
---