The 2021 Subaru Love Promise Customer and Community Commitment Award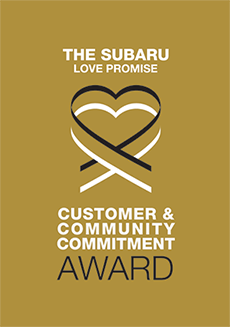 We've been nationally recognized for our dedication to our customers, our community, and the Subaru Love Promise.
We're honored to receive the 2021 Subaru Love Promise Customer and Community Commitment Award. This award nationally recognizes elite Subaru retailers who provide an exceptional customer experience at every interaction with Subaru. These retailers have also demonstrated an outstanding commitment to supporting passions and causes in their local communities in important areas such as the environment, community, health, education, and pets.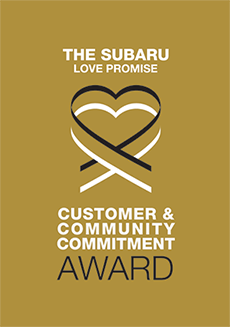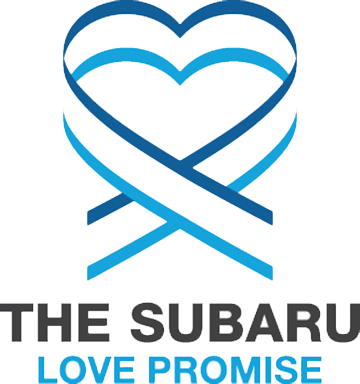 What is the Subaru Love Promise?
Subaru and our retailers believe in making the world a better place and the Subaru Love Promise is our vision of respecting all people. This is our commitment to show love and respect to our customers and to work to make a positive impact in the world.
How is Patriot Subaru of Saco dedicated locally to the Love Promise?
At Patriot Subaru, our Love Promise to New England and to the Maine area can be seen in our eco-friendly practice and in our partnerships with local nonprofits and charities. We're grateful for the opportunity, not only to be a part of the Saco community, but to serve it as well.
Paws in the Park 2013 , Buddy Up Animal Society, Animal Refuge League
Zero-Land Fill Facility, Energy Star Small Business
Big Brothers Big Sisters, ME Public Broadcasting Network, American Red Cross, PRIDE Portland!
Love Promise Stories from Patriot Subaru of Saco
Subaru and Patriot Subaru of Saco believe in making a positive impact on the communities in which we live and work. We uphold that belief through our Love Promise Community Commitment. Every month, we select inspiring stories from customers and partners from around our area who strive to support our collective commitment and feature them here
Supporting The Kids First Center - Tim R
Divorce or separation of parents is especially difficult on children, often caught in the middle of non-productive communication between the adults. Offering support and council is "The Kids First Center" in Scarborough, ME. They provide the structure for kids and teens through online support groups, aided by professionals. For families in transition, this guiding and calm influence helps to lower the temperature, and reinforces healthy and positive parenting skills. Patriot Subaru coordinated with the United Way of York County, ME, who has joined us as a partner in our "12 Weeks of Giving" program. The United Way is fully versed in the non-profit / local charitable world, and helps us identify organizations that are vibrant, active, and well-run. When the United Way suggested we consider The Kids First Center, and provided supporting information, we were quick to embrace them. During the first week of March, Patriot donated $25 for every car sold, earning $1425 for Kids First. Patriot General Manager Brian Beattie was delighted to present Tim Robbins, the Executive Director at the Center with the proceeds, with Jason Ketterick from the United Way York County joining us. Thank you all for your hard work!
---
Cooking For Community - Ian M
Our February partner for Patriot Subaru's "12 Weeks of Giving" Program was a Portland based non-profit, Cooking for Community Maine. Volunteer Operations Coordinator Ian Malin (R) was very pleased to accept the donation of $1050 from David Shoemaker, Patriot's General Sales Manager. Patriot donated $25 for every vehicle sold during the first week of February to C4CM, while also promoting their good work through social media and our website. We were extremely impressed by what this organization has done in such a short time span. Formed in response to Covid - C4C raises money to buy food - much of it local, then compensates local restaurants to prepare meals for those in need. In 2020, C4C distributed 75,000 meals through this system. Think of who benefits: The farmers who supply the food, jobs for chefs and cooks, jobs for organizing and distributing, and ultimately getting healthy meals to people and families affected financially from the pandemic. Wonderful program all-around. Patriot's 12 Week program benefits and highlights these non-profits, encouraging others to support them as well. More to come!
---
12 Weeks of Giving in 2021 Underway - Sue S
The logistics of building a local town community non-profit group are not easy. These groups are usually 100% volunteer, with limited office hours and space to work. One example is "Westbrook Families Feeding Families" (WFFF) located in Westbrook, Maine. Their initiative is to ensure families the food they need to stay healthy, active, and engaged within our community. WFFF currently serve about 30 families a week, providing 60-80 bags of non-perishables. Neighbors helping neighbors, that's what it is all about. To support groups like this, Patriot Subaru launched the 2021 "Twelve Weeks Of Giving" program. We identify one small town non-profit group each month, and commit $25 for the sale of every car during the first week of the month to their organization. If any cars sold come from the same town as the group, we will double it to $50. We employ a social media campaign to highlight their mission, creating awareness for their program with links to both the charity, as well as our website. The Patriot website has a landing page dedicated to "12 Weeks", with a PayPal Donation link, encouraging visitors to make a direct donation to the charity. In our inaugural month of January, Patriot presented Sue Salisbury, the founder of the WFHF with a check of $1425. Patriot Subaru General Manager, who resides in Westbrook, noted "Hearing about some of what the group has been doing, this was one of my first choices". It's a great start to the program, and there is more to come.
---
The Death Nut Challenge - Patriot S
Due to the pandemic, with many forms of entertainment closed or compromised, finding team-building outings or events at the business is a challenge. At Patriot Subaru, General Manager Brian Beattie brought in a gift that he had received, a box containing the "World's Hottest Nuts". The package was labeled the "Death Nut Challenge", and It didn't take long for a "Bet-You-Can't-Eat-Them" throwdown to be issued. In short order, we had ourselves an all-out contest, with 8 department managers agreeing to participate. 8 packages were ordered and a date was set for a Saturday in June. To spice things up, Brian announced that any contestant who finished their entire package, would have $250 given to a charity of their choice. Five levels of peanuts were coated with ultra-hot peppers, from the Carolina Reaper to the Ghost Pepper, Pot Douglah Pepper to the Trinidad Moruga Scorpion Pepper, the latter laced with 100% pure all-natural Capsaicin Crystals. Each level had to be eaten at specific timed intervals, and no aids were allowed – no drinks or food items to quell the burn. With a large Facebook live crowd watching, and the three local tv stations – WCSH6, WMTW8, and WGME13 reporting, the 8 braced and started eating. They forged ahead, eyes watering, sweating, but never stopping, Incredibly, all 8 finished the task – earning $2000 for charity! Luis Perez (Sales Mgr) Saco Food Pantry, Paul Hall (Service Mgr) Animal Welfare Society, Glen Reed (Fixed Ops Mgr) Scarborough Fire/Police Explorer Program, Tim Bennett (Finance Mgr) Boston Children's Hospital, Jill Sorrentino (Finance Mgr) Animal Welfare Society, David Shoemaker (General Sales Mgr) Juvenile Diabetes Research Foundation, Jackie Parker (Internet Sales Mgr) Equality Maine, and Brian Beattie (General Mgr) Baby Bronson Project. Rumors of some gastric issues were to follow, but the bottom line was that it was a fun diversion for a good cause!
---
Supporting Dempsey Center - Patriot S
Breast Cancer Awareness takes place every October, and health organizations and charitable groups world-wide, hold events and fund-raising programs. This year, Patriot Subaru chose to set aside $50 for every car, new and preowned, sold during the calendar month, designating this money to the Dempsey Center. Dempsey has two Maine locations – South Portland and Lewiston, and now a third virtual location, Dempsey Connects, all committed to making life better for people managing the impact of cancer. Services are provided at no cost, and includes cancer patients, survivors, care partners and family members. Well, things shaped up very solid at the store, with one of the strongest months in our history. We closed the month and contacted Christine Penney, Development Director for Dempsey with the good word that we had raised $12,850. Arrangements were made for Christine to receive the check at the store, as Covid-19 prevented us from visiting their facility at this present time. This has been a challenging year for every charitable group, and this unexpected gift was a huge boost. Needless to say they were extremely grateful, but then so were we. Many of us have been touched personally by cancer, and strongly support the great work that the Center provides. (Side note was that Christine arrived in her beloved Subaru Legacy Sport, and added that there were more Subaru models in the Dempsey parking lot than anything else! We love that!) Pictured here, Brian Beattie, General Manager Patriot Subaru, with Christine Penney.
---
Patriot Subaru helps pets in need - Jeana R
Patriot Subaru and the Animal Refuge League of Greater Portland (ARLGP) have been long-time partners, working together over the past 10 years to create awareness around adoption and animal welfare in Maine. This October, as part of the Subaru Loves Pets national adoption campaign, Patriot Subaru pledged to donate $100 per pet adopted from the ARLGP (up to 31 pets). One of these lucky pets was Mike. Mike was with the ARLGP for many months as a special needs pup. He underwent two orthopedic surgeries so that he could frolic and play as freely as possible for a 2-year-old hound mix. In October, Mike was officially adopted. Patriot Subaru's charitable gift in Mike's name helped offset the advanced veterinary care Mike needed to be happy and healthy. We are thankful to the animal-loving team at Patriot Subaru for their long-time commitment to pets in need.
---
Thank You - Jennifer a
It's truly amazing when the owner of the company Adam Arens reach out to you to assist in a car sale. I did not have the greatest experience the 1st time but David Shoemaker of patriot Subaru did make everything correct to get me into a 2021 Subaru Crosstrek. From the bottom of my heart I can't thank him enough and I love my new car. Thank you again Mike Avery, David Shoemaker and Adam Arens for making it possible and for dreams come true. This dealership was very knowledge about the cars and very helpful . I never thought it was possible to purchase a Subaru but the staff Mike Avery, David Shoemaker and Adam Arens did make it possible to purchase my 1st Subaru. They were great to work with, very helpful and I would recommend this dealership to anyone. On the proposal they show you the finance rate which is great to know. At the end of the sale they have specialist that answer any question you have about the car.
---
Taking Action Against Illegal Dumping - Patriot S
Corey Creteau, one of our Patriot Subaru sales associates, was alerted to a rather distressing situation taking place just a mile from our Saco store, and close to where he lives. Corey belongs to a Facebook group named "Saco Moms and Dads", and on one Saturday afternoon, he saw a post with photos from another group member. The post illustrated how someone had been illegally dumping trash in a vacant Saco wooded lot. Motivated to fix this problem, Corey pulled together a clean-up team from the dealership, with the plan to meet the next day. Via social media, he reached out for additional support, including how to obtain a dumpster on short notice. Now would be a good time mention this was not just an ordinary Sunday; it was Mother's Day! Nonetheless, a local waste company came through with a dumpster at a reduced rate and delivered it to the site the next morning. The team of 10 worked hard for five hours, hauling, dragging, and lifting enough garbage, mattresses, and old furniture to completely fill the dumpster, a truck bed, and a trailer. A local TV station heard about the story and tried to reach the crew in progress, but the team was too busy to notice the call! The team connected with the station reporter after the fact and provided photos, that were then posted on the TV station's website. Turns out that even with this effort, some items were just too heavy or cumbersome to haul out. The Town of Saco heard about the whole ordeal through the news, and mobilized their department to step in and complete the job. There was an outpouring of cheers from the community on Facebook and Instagram for everyone's contribution. Credit Corey for his spontaneous reaction to right a wrong, and to all those who joined the movement without hesitating, even if it was Mother's Day. We have the feeling that the Moms of the clean-up crew were all very proud.
---
Getting The Most Out Of Your Subaru - Patriot S
"Are you getting the most out of your Subaru?" That was the question we emailed out to customers who had purchased a new car in the past year. The response – yes! Today's Subarus' provide more safety and comfort than ever before, but it takes some time to learn how to operate it all! Many features and options at the fingertips actually go unused because the owners simply do not know how to use them. Patriot Subaru teamed up with Subaru of New England to host "Technology Orientation Night", inviting Subaru owners to come in for a training and education on their vehicles. Over 100 people came to the Saco, ME store to attend the demonstrations and "hands on" teachings. Stations were set up in the service bays where customers could see, listen, and learn, everything from how set up their phones, using Starlink, and to how to utilize the EyeSight safety system. Video monitors aided in the process. Much of the night had teaching in groups, but time was provided for attendees to work one-on-one with a teacher. Light snacks and refreshments were served, and all customers left with a nice swag bag of goodies. The reviews were overwhelmingly positive and appreciated. Expect more in the future!
---
The Baby Bronson Project - Brian B
Jenna Gould, daughter of Patriot Subaru's General Manager Brian Beattie, was 29 weeks into her pregnancy when she began to feel that something was not right. After an ultrasound discovered an injury to the umbilical cord, her son Bronson was delivered 9 weeks early. Rushed to the Maine Medical Center Neonatal Intensive Care Unit, her son fought hard for 8 days before passing away. Grief was immeasurable, but with the support of family, friends, and the incredible team of doctors and nurses, Jenna knew that her son was truly loved. Through this time, Jenna would come to learn that neonatal death is more common than people realize, statistically over 22,000 per year in the U.S. With support of her family, Jenna started the Baby Bronson Project, to provide comfort, and most important, being able to share the experience with others, letting them know they are not alone. Looking to help in a unique way, Brian suggested that he would raise money with a walk, but it turned into something much bigger when Jenna suggested he walk for 8 days to honor her son's life. Not an easy task, particularly when you are running a busy auto dealership. However, Brian responded immediately, yes, that is perfect. On June 16th, he set out on foot with a back pack of supplies. His 8 day hike would take him from Patriot Subaru in Saco, Maine all the way to Newark NJ, an incredible trek of 369 miles - an average of over 46 miles per day. Poison ivy, shin splints, aches and pains he had never felt, and often too tired to take another step, Brian did not want to concede an inch. Along the way, he was inspired by a constant flow of text messages that always seemed to come at the right time. Word of his journey was spreading across the social media channels. One night, while eating alone in a small Connecticut pub, he met a couple and shared his story. After they parted company, Brian went to pay his bill, only to discover it had been taken care of, while also learning that the couple donated $100 to the cause. If one of the main goals was to spread awareness for the Project, it was being accomplished. Donations grew to over $13,000, Facebook Likes doubled, and stories from other families flowed in - not just from friends and acquaintances, but from all over the country. Brian's mother, 85, went to the store to buy paper to make a "Welcome Home" poster, and when she told the young lady behind the counter that it was for her son who had been walking for 8 days, the clerk said, "Oh, you mean the man walking for Bronson?" The walk would end at the Newark NJ Airport, from where he flew back to Portland, Maine, greeted by his family and his mom's poster. "This was about raising awareness, and money so the Project can move forward." said Brian. "It can be developed to help more families across the country, and we can apply for 501c-3 status. Most important to our family and particularly Jenna, is that we will never forget Bronson." Asked if he will do the walk again next year, Brian smiled and said, "Well, I think I'll try something different. The plan is to take suggestions from one and all, to find something clever and unique that I can do over 8 days. Should be interesting. I just hope it doesn't hurt as much." For more information on the Baby Bronson Project, please visit the Facebook page at https://www.facebook.com/babybronsonproject/
---
STRIVE Rocks! - Patriot S
STRIVE Rocks! Strive is the South Portland based non-profit organization that serves tweens, teens, and young adults (ages 11-24) with intellectual and developmental disabilities. They also know how to put the fun in fundraising! On a March weekend, Strive takes over the Cross Insurance Center in Portland for a 12 hour marathon event called Strive Rocks! It's an endless parade of activities from Saturday afternoon thru Sunday morning – dancing, games, booths, costumes, and all sorts of interactive fun. It embraces those who are currently in the Strive program, families, friends, including many who were part of Strive in years past. Every participant must raise a minimum of $100, plus many businesses join in on sponsorship levels. Patriot Subaru has been working with Strive for several years with two major annual fundraising programs – the famed "Kevin On The Roof", and "Share the Love", so we know them well. So when it is time for Strive to implement the huge undertaking of running their "Rocks" event, they need every extra volunteer hand that they can get. Patriot Subaru associates Lex Pelletier, Kia Hewins, and Victoria Fleurant, were on the scene to help run events in the evening, and Tom Talbott came in early Sunday morning for the break down and clean up. The work that everyone put in sure paid off, as the event closed with the announcement that $111,269 had been raised! Tremendous! Events like Rocks helps to keep Strive's ability to offer programs to over 900 young adults in Maine alive and well.
---
Volunteering at Youth Facility - Tom T
The Long Creek Youth Development Center in South Portland, Maine provides care, custody and security services as a total educational rehabilitative resource for both male and female juvenile offenders within the state-wide correctional setting. At the facility, juvenile clients are held for court evaluations and diagnostic services, while continuing their education through the A.R. Gould School. The Center provides volunteer services, social services, worship services, as well as medical services to those in the program. With ever-tightening budgets, volunteers from the community provide an additional layer of assistance to the staff. Often, volunteers serve as a mentor, akin to a big brother or big sister. Tom Talbott, who is the Marketing Director for Patriot Subaru began mentoring at the facility in 2016. It starts with a rigorous background check, and then an educational training session conducted by the Long Creek staff. The class focuses on the rules of the facility, codes, and conduct, emergency situations. "I am not a social worker, not a psychologist. I am not here to talk about their past, or why they are here. My focus is on simply being a responsible, reliable adult figure who is willing to take some time each week to simply talk, shoot some hoops, share a meal. Many of these kids had a difficult family situation, and they're not one to easily trust adults. I don't pretend to think that what I do is having some kind of major impact on someone. However, hopefully, it shows them that people do care, are willing to help, and ready to provide friendly, non-judgmental guidance and advice. Perhaps you can call it a role model, but I prefer to think of it as just being a friend."
---
Mercy Hospital Blanket Delivery - Ed G
Associates of Patriot Subaru ventured to Mercy Hospital's Fore River Campus to deliver blankets to those suffering from life-threatening illnesses. This summer Subaru of New England and The Leukemia and Lymphoma Society partnered together to spread hope and warmth to those in hospitals across the country suffering from blood cancer or illness. Through the month of May, Patriot held a table of pens, paper, and small cards that customers and associates alike could write handwritten notes and messages of encouragement, hope, happiness, and well wishes to those fighting an illness. Once the messages had been collected, each message was matched with a blanket, provided by Subaru, and then donated to Mercy Hospital patients. Glen Reed, Patriot Subaru's Service Director, along with Kayla and Kaz from sales, and Lex and Adam from Subaru Support took a parts truck filled with over 80 blankets and messages of hope to Mercy Hospital. The team was met at the hospital doors by the Director of Communications and the Oncology Manager as well as other members of the Oncology team who would disperse the blankets and messages to patients in the current care of the hospital. The hospital team members were overwhelmed by the kindness of the donation and passed along many thanks well after the donation.
---
I was dreading the process - they made it easy - Kaitlyn K
I can't say thank you enough to Matt Rieders and the rest of the Patriot Subaru Saco, ME team. We went in for an appointment with Matt, and I truly was dreading the process of leasing a car. It was my first time working with a car dealership, my first time looking at the option of a new car - and we did not have a positive experience at a place local to us. I immediately felt comfortable working with Matt. He asked questions and really listened to what I was hoping to have in my next Subaru. He found me exactly what I was looking for, at a price I was comfortable with. Everything fell right into place, and I give total credit to Matt and the hard work he put in to make it happen. He also gave me a second contact, David Shoemaker, to speak with. David was great to work with and answered all the questions I had about my new Subaru. I'm grateful for the recommendation a friend gave me after her great experience at your dealership - I look forward to working with Patriot Subaru Saco, ME in the future!
---
Kevin on the Roof - Patriot Subaru, Saco, Maine - Pete B
On Sept 1, 2018, Kevin Fitzpatrick, a volunteer for STRIVE, climbed the ladder in the parts department and stepped onto the roof of Patriot Subaru. He would be remaining there until he raised $40,000 for tweens and teens with intellectual disabilities and a program called STRIVE. (www.pslstrive.org) This is the 3rd year that Patriot Subaru has allowed the "Kevin on the Roof" event to take place at their dealership, and the partnership has grown each year. This year they assisted with the fundraising by selling "roofs" to sales & service customers, they provided lots of publicity through social media and their website, and they also helped STRIVE to produce short videos of STRIVE clients to introduce the community that much more to what STRIVE does. They ran those spots on both their social media and tagged them in cable TV spots. Throughout the week that Kevin was on the roof this year, the staff supported him through a variety of ways- from the physical support of providing an industrial fan when it reached 110 degrees on the roof- to their own out of pocket donations. In addition to Kevin being on the roof, Patriot allowed STRIVE to provide "ground support", members of the STRIVE staff who were allowed to set up a booth outside the dealership (on the ground) to explain what the effort was all about, and collect donations. STRIVE team members were there from 8am-8pm (at least) throughout the week. Patriot also allowed the staff to use their facilities, including the bathrooms and air conditioning during a brutally hot week. Kevin was on the roof for 7 days (169+ hours) and exceeded his fundraising goal of $40,000. He also was featured on 3 television stations, 5 radio stations, and the local daily paper. Not only was $40,000+ raised for STRIVE in this effort, but also a tremendous amount of exposure for the agency, which allows for parents and families to learn about our programs for their children. Here are some articles/clips about the effort: https://wgme.com/news/local/strive-fundraising-goal-met-kevin-climbs-down-from-roof https://wgme.com/news/local/kevin-on-the-roof-remains-on-roof-until-he-raises-40k-for-strive https://www.newscentermaine.com/article/news/local/man-stands-on-patriot-subarus-roof-to-raise-donations-awareness-for-strive/97-590632946?utm_campaign=trueAnthem%3A+Trending+Content&utm_content=5b8e115f4b73850001c74f86&utm_medium=trueAnthem&utm_source=facebook We would love to nominate (if possible) Patriot Subaru for your monthly community service award! STRIVE is one of many organizations they support- and we would love for them to be recognized. If we can be of further assistance to this "nomination", contact info is below. Thank you for your consideration. Peter Brown Associate Director (207) 879-0847 pbrown@pslstrive.org
---
Stuff A Subaru! - Patriot S
Local food pantries provide a vital service to those in need. Here in Saco, ME, the Saco Food Pantry Inc., founded in 1982, currently provides food for over 8,000 people a year, with more than 96,000 individual meals. Run by an all-volunteer staff, the Pantry provides short-term and intermittent assistance, with long-term help for those experiencing continued difficulties. To help their cause Patriot Subaru will conduct several "Stuff A Subaru" programs over the course of the year. We'll take a new Subaru that features a hatchback rear opening, and park it in the showroom with the tailgate open. The goal is to literally, stuff it – with canned goods and other non-perishables. We will post on our social media outlets that we are taking in donations, and welcome all to participate. To get the ball rolling, we will launch with a supply of items that have been donated by Patriot Subaru associates. Soups, canned vegetables, pasta, cereal, peanut butter, as well as kitchen cleaning supplies are in high demand. Local pantries rely almost exclusively on donations from the community in order to provide the services to others in need. With our "Stuff A Subaru" program we are able to provide essentials, plus help raise awareness for the pantry itself. Many people who do not need assistance may be completely unaware of the pantry, and learn about it through events like these. So the next time you see one of our "Stuff" events, you'll know what to do!
---
Bathe To Save - Clean Dogs and Big Hearts! - Patriot S
Patriot Subaru in Saco partnered with "Bathe To Save", the entrepreneurial enterprise of an Australian family on a mission to raise money and awareness for local animal shelters on a nationwide basis. On a warm October morning, the Amos family arrived in their 40 foot long motor coach towing "Bubbles" - their enormous cartoon-like portable dog washing unit, and began the set up for a day of dog washing action. Patriot associates were hands-on in all aspects, from registering people and their dogs on arrival, taking paw prints, escorting them to the bathing unit, and towel drying them off. At the same time, associates ran a delicious BBQ - hot dogs of course, with hamburgers as well. The team also assisted a number of participating vendors - local retailers who joined in to make it a fuller and more festive event. Each dog washed earned money for the Animal Refuge League of Greater Portland, who had a full booth set up and display. Joining the fun was Planet Dog, a Portland based company with world-wide distribution of dog oriented supplies, including their famous Orbie ball. Planet World brought plenty of fun and free items to give away to dog-wash customers. We also had a team of students from STRIVE helping out throughout the day. STRIVE works with young adults with developmental disabilities, and it was great to have them assisting customers as well as the Bathe To Save wash team. 102.9 WBLM was on-site with a live broadcast and music. Last, Patriot parked a new Subaru Crosstrek adjacent to the proceedings, with a goal to stuff it full of essential items and food for the ARLGP. Sure enough we did! Not only that, but while the Crosstrek was parked - we sold it! The new owner then drove her brand new car filled with pet food and toys over to the ARLGP and delivered all the goods. That's the spirit! Though our event was on a Friday, which is obviously a busy work day for most, $866 was raised from the washes, plus a car load of supplies. Most importantly, the marketing leading up to the event created a tremendous amount of awareness for the ARLGP, highlighting their services, and helping to place more dogs into loving new homes through adoption. A lot to bark about!
---
Patriot Subaru Helps Others To Be Eco-Friendly - Patriot S
Last fall 2016, Patriot Subaru earned the prestigious national Cox Automotive Sustainability Award. The award recognized Patriot Subaru for their in-store green programs and creative engagement with the community and employees. The award came with $20,000 to fund two sustainability projects; $10k in the store, and $10k in the community. "We are honored to present this check to the JCA." said Adam Arens, Owner/President of Patriot Subaru. "This facility provides a new level of service that will enrich the lives of so many in Southern Maine, and be a hub for greater education and understanding. We also love the way the building design has incorporated numerous green initiatives, and we're happy that the money we received from Cox is going to be extremely well utilized in the new facility." Alexandra Sax, JCA Development Director expressed the appreciation on behalf of the organization. "We thank Patriot Subaru for their support of our new building's green initiatives. This gift has helped us to create an on-site rain garden, a grassy area with plantings that will filter and purify the water that drains from all impervious areas on our site. This green initiative is part of a greater plan developed by the architects to make the building and site as energy efficient as possible. Pictured: Ellie Miller-Exec Director JCA, Jackie Parker-Patriot Subaru, Steve Brinn -Co-Chair JCA Capital Campaign Committee, Adam Arens-President Patriot Subaru, and Matt Rieders-Patriot Subaru.
---
Helping Parks Department's Shade Tree Program - Joe H
In Maine, we love our shade trees. The cooling effect in the summer and the magnificent fall foliage. Ok,let's forget about raking leaves! Of course, through age, some harsh ice storms, or disease, trees need to be removed and replaced. For town parks, that responsibility falls to the Parks Department, which is usually stretching a budget. To help out, Patriot Subaru sets aside 2-3 days every year around Earth Day to raise money for those community departments. During that time, the store will set a dollar amount, typically $25 for every vehicle sold, and donate that money to one of the Parks Departments, specifically earmarked for the planting of shade trees. Since 2014, between the two Patriot stores - Saco, ME and N.Attleboro, MA - approximately $4000 has been provided, and that has led to the purchase and planting of 15 trees. The response from the Parks Department managers says it all. From Saco Parks Manager Joe Hirsch, "Unless we have a grant or a donation such as this, we are unable to plant trees of this quality. Reforestation is not a budgeted item." Remarks Brian Beattie, Patriot GM, "Seeing the trees that have been planted from our Earth Day event is something we really enjoy. It's a living object, that beautifies our town. We hope that other businesses think about this when they are thinking of area programs to support. A little goes a long way." Throwing shade, the Patriot Subaru way!
---
Patriot Subaru Can Swing A Hammer - Patriot S
At Patriot Subaru, charitable donations are more than just dollars. It's about involvement. Patriot's donation to Habitat For Humanity of Greater Portland of $45,000 was targeted to a new 13-home build in Scarborough. In addition, Patriot employees will be on-site swinging hammers working to bring the house to completion. Patriot GM, Brian Beattie noted, " There is a real enthusiasm to be engaged in our charitable giving." Godfrey Wood, Exec Dr. for HFH/GP was most appreciative. "Our ability to build safe, affordable homes for families in need is made possible through businesses that care about their community. Patriot's donation is an unmatched demonstration of corporate care and dedication to doing the right thing." Adam Arens, owner of Patriot Subaru referenced the company's Mission Statement. "Essentially, two words: 'To Serve'. Under that we add, 'Our Customers, Our Community, Our Families, and Each Other". We work hard for our customers, and we support each other in our personal lives. Together, we do things for our community. We jump in, sleeves rolled up, and get directly involved in projects. What we saw in Habitat For Humanity was just that kind of opportunity." Notably, Patriot Subaru has earned Automotive News "Best Dealerships To Work For" five consecutive years, and Maine's "Best Places To Work" four consecutive years. "When the associates know we support their interests, and their families, it benefits the work place." says Arens. "It shows."
---
Up On A Patriot Subaru Roof For A Good Cause - Patriot S
Great ideas require execution, dedication, and hard work to become a reality. Sometimes it takes a bit of crazy! So when Kevin Fitzpatrick, a local employee at UPS came to Patriot with a clever idea, we listened. Kevin had set a fundraising goal of $30,000 to benefit STRIVE, a South Portland organization dedicated to helping young people ages 11-24 with developmental disabilities.To raise money, Kevin would go up on the roof of Patriot Subaru, and not come down until donations from the community reached the goal. We worked out details and safety factors, while Kevin lined up other sponsor businesses to supply raffle prizes for donors. Patriot built a special roof railing, and prepared marketing materials. On Sept.1, heading into Labor Day weekend, Kevin ascended to the roof. It was a slow start – donations only reached $8000 after 5 days. Then, the media buzz started, and donations vaulted past the $30k mark on the morning of the 7th day. Whew! By the time Kevin had packed his tent, donations totaled $32,480! He came down to cheers from family, STRIVE supporters, and the entire Patriot Subaru team, proving how one motivated individual can rally the support of an entire community. In addition to the money, it raised awareness for the many programs of STRIVE, and how it serves the community. Patriot was proud to be asked, and proud to be a part of the team to make it all happen. Highlight and right click the link to view our Love Promise in action: http://bit.ly/2dLpsnE
---
Patriot Leading Way On Green Sustainability - Patriot S
Patriot Subaru is the proud recipient of the 2016 Cox Automotive Leader in Sustainability Award for outstanding community contributions and in-dealership sustainability programs related to waste reduction and energy conservation. Patriot will receive $20,000 to fund two green projects – one at the store, and one in the community. "Patriot's comprehensive, deep-rooted environmental and community programs embody the spirit of this award." said Grace Huang, SrVP Manheim NA, a Çox division. Patriot Owner Adam Arens says, "We found we could be environmentally more conscious and cost effective in the way we run our business. We started it because it was the right thing to do. We share ideas with other businesses, and yes, competitors, showing how to save money by being green smart." Patriot's comprehensive green approach has four cornerstones: Think Green, Act Green, Sell Green and Convey Green. Patriot earned a 2010 Award from Energy Star, the first business in Maine to ever receive such recognition. The company earned top recognition from ecomaine in 2013 and 2015, and the first Subaru dealership in Maine to be named an "Eco-Friendly Certified Dealer" from Subaru of America. Cox Automotive is a division of Cox Enterprises with industry leading marketing, financial, and e-commerce solutions for automotive ecosystems worldwide. Cox Enterprise includes Cox Communications/Cox Media Group. Highlight and right click the link to view our Love Promise in action: http://bit.ly/2eGvCdt.
---
If It Has Wheels, We Can Fix It! - Greg T
Our techs love fixing things. We had a case where a gentleman driving a vehicle equipped with a handicapped-driving aid came in for service. Upon arrival, our service advisers took his wheelchair from the back of the wagon, and assisted in helping him from the car to the chair. As the car was taken into the service bays, the customer seemed to be having some difficulty with his wheel chair. One wheel was catching and not turning properly. Seeing the situation, the advisor went into the bays, and brought back one of our technicians, Greg Turcotte. Greg determined that if they could take the wheel chair back into the shop, they could probably come up with a solution to fix it. The gentleman was helped into a chair, while his wheelchair was taken in for a closer look. A short time later, the techs, Greg and Nate Murray, were back, and the wheel chair was as good as new, no charge for the fix. The car tune up was completed and one very happy customer went on his way.
---
Patriot Subaru Shares the Love - Tom T
Americans donate a lot of money to charitable organizations, but don't often get to see the impact those dollars can make. For instance, since 2008 the Subaru Share the Love Event has donated $65 million to charity. Subaru selects 4 national charities, and since 2014, Subaru dealers choose their own local charity, more than 600 causes in all, to benefit. In 2015 and 2016, Patriot Subaru of Saco chose Preble Street, a Portland-based organization that works to create solutions for homelessness, hunger, and poverty. The 2-year total came to an impressive $87,000. "It speaks well to the appreciation people around here have for the services Preble Street provides" said Patriot Subaru Owner/President Adam Arens. But what impact does that money have? Preble Street's buying power can turn those dollars into approximately 609,000 pounds of food, primarily staples such as milk, pasta, cereal, sugar, coffee, ground beef, and pancake mix for its soup kitchens and food pantry. Donations also cover overhead costs, such as facilities and equipment, and social work staff who work to help people move beyond poverty. "Nearly all of our support comes from generous business partners like Patriot Subaru sharing their love for their neighbors. Together we not only meet urgent needs but also provide hope and opportunity," said Preble Street Development Officer Elena Schmidt. Now that's effective! (Pictured - Preble St. hosted a "Share The Love" BBQ at Patriot to raise awareness.)
---
Patriot Subaru Employee Focused on Being a Good Citizen - Christ W
My wife and I love Maine and when we found a small vacation home for sale there, we decided to drive up to see the property. We drove up in drizzle and about 50 degrees and upon arrival, we could see a long dirt driveway that lead through a field to the cottage. Since the "road" looked rutted and muddy, I decided to drive on the grassy field and circumvent the road. BIG MISTAKE. Within 30 seconds and 20 feet, we were mired in mud up to the bottom edge of the doors. It would be hopeless to try and get the car off the field. I flagged down a passing vehicle. It was a Subaru Outback. A very nice gentleman stepped out and warmly greeted us. He noticed our predicament and said, "You're in the middle of mud country, and I don't think your car will power itself out, so give me a minute and I'll be right back." I noticed he was wearing a Patriot Subaru shirt. He reappeared within 5 minutes with another vehicle (Subaru), a companion, and webbed towing strap. Within three minutes, the Outback had safely pulled us from the mud and onto the main road. We were saved! We were very impressed with this gentleman and his kindness. It sure made an impression on me that he was from a Subaru Dealer. The day ended well and it was all due to a kind man wearing Patriot Subaru apparel. It certainly was a good omen when I learned that Patriot was coming to Massachusetts. I am pleased to know a business that is so focused on being good citizens. Christ W. Bristol, Rhode Island
---
Patriot Riders - Patriot S
Patriot Riders of America - Maine Chapter One is a non-profit organization helping veterans, active duty men and women, first responders, their families and communities. Every year the chapter holds events to raise money and awareness for the organization allowing them to continue providing many forms of assistance. Aside from the kinship in name, Patriot Riders Maine Chapter One and Patriot Subaru have formed a strong bond, working together on different levels and on various events. It started with one of the Patriot Subaru technicians, Scott Lambert, who is also a member of the Patriot Riders. Patriot Riders were involved with the Wreaths Across America program, fundraising to purchase wreaths to place on every stone in the veteran's cemeteries in Springvale, ME. Scott approached Adam Arens, Patriot Subaru owner, and explained the goal. In a strong show of support, Patriot Subaru asked what was needed, and donated the funds to honor and respect every fallen hero in the cemetery. Since that time, Patriot Riders and Patriot Subaru have teamed up to co-execute toy drives for Toys for Tots. This past year the combination resulted in nearly 4X the amount of toys from the previous year. In addition, the two groups have held blood drives with the Red Cross, with over 30 pints of blood collected. Last, food drives are held to support 50 families of disabled veterans and collected over $300. Patriot Subaru is proud to partner with Patriot Riders of Maine.
---
Patriot Subaru Employee Returns Family Heirloom To Customer - Patriot S
Sometimes it is the simple things that make a big impression. The simple things that say that you care. Patriot Subaru Service Advisor, Wayne Durgin, was cleaning up the customer reception area when he came across a non-descript book with a very interesting and clever bookmark. If you remember the Wizard of Oz, you'll remember the wicked witch who had a house drop on her, leaving only her legs and the ruby slippers sticking out. Imagine a bookmark - just a pair of red stripe leggings and slippers sticking out of the pages! Wayne thought - this means something to someone, but without any identification, it was not possible to contact the owner. Several days later, a customer called, and inquired, "By any chance, did anyone find a book with a Wizard of Oz bookmark?" Wayne alerted the other service advisors to keep their ears open, and the call was put through to Wayne. Turns out the bookmark was made by a family member, and it had great sentimental value. Wayne drove about 45 minutes to return it to the owner. As it turns out, they live in a part of Maine that we call rural. If you don't know where you're going, you don't get there. Reaching by cell, the owner told Wayne, "Stay where you are, I'll come to you". They found each other and the exchange was made. The woman was so happy and relieved to get this small, but irreplaceable family heirloom, saying that she was sure it would have either been tossed or taken.
---
Summer Old Port Festival - Adam A
Old Port Festival The Old Port Festival in Portland, Maine is an annual event that has delighted locals and tourists for 40 years-live music, local arts and crafts, amazing food, and games for one and all. Typically, car dealers are not part of the activities, but Patriot Subaru is no typical dealer! They became the official beanbag toss headquarters and gave out bags of popcorn to winners. They also had a drawing for Red Sox tickets. However, the biggest draw was Colby, a golden retriever owned by Adam Arens, the owner of Patriot. Many enjoyed hearing his story of being a rescued dog from Hurricane Katrina, and shared personal stories of their own.
---
Patriot Subaru makes giving fun - Adam A
Red Cross Patriot Subaru's relationship with the Red Cross goes all the way back to the store's opening. Our biannual Blood Drives have always received solid support. However, Patriot has taken it one step further by coordinating Blood Drives with fun themes to increase participation. In November 2013, Patriot hosted a Blood Drive, and Toy Drive and special guest hosts, The Patriot Riders of Maine. Patriot Riders focus on providing local veterans, veterans' families, as well as our first responders and community, support and assistance. The blood drive had more than 40 donors. Back in June of 2013, another Blood Drive was complemented with a special Dog Adoption Day. Patriot Subaru welcomed Maine Lab Rescue to the store, with 20 dogs in tow! With great anticipation for the event, the store was filled with dogs and people for the morning and afternoon. In the end, 13 families made new homes for dogs, a tremendous success. A few of the dogs even went home with Patriot Subaru employees!
---
Big Brothers Big Sisters and Patriot Subaru have form a special partnership - Adam A
Big Brothers and Big Sisters Big Brothers and Big Sisters are adult friends and role models for children who are in need of additional support and guidance. "BIGS" make a meaningful connection that will make a difference in a young person's life and in the community. Big Brothers Big Sisters and Patriot Subaru have formed a special partnership. In their customer service reception and waiting area, posters and handbills create awareness of the program and ask customers if they would consider donating gifts that a "Big" and "Little" can use together. Gifts might be tickets and passes to sporting events, theater, museums, fairs, or zoos. In return, Patriot will give the donor a 10 percent discount on their next service bill. Those who are already Bigs, or are able to participate in the program and become a Big, are rewarded beyond knowing they've helped the community with up to $75 in service discounts. The donations can provide a great time for a Big and Small, and help forge a bond and friendship. Little things can go a long way.
---
Patriot Subaru Organic Vegetable Garden - Adam A
Patriot Subaru Organic Vegetable Garden Patriot Subaru has always made an effort to be the most environmentally conscious dealership in the country. In the spring of 2010, they took some time to stop selling and start sowing when they broke ground on the "Patriot Subaru Organic Vegetable Garden." One employee who also runs a farm brought in a ton of compost and manure, which other employees tilled into the ground. Employees built classic white picket fencing and gates. The vegetables began to grow-tomatoes, peppers, beans, lettuce, cucumbers, squash, and more. By then, customers had gotten involved. Rather than sit in the waiting room while their car was being serviced, they enjoyed getting their hands dirty and weeding. Others enjoyed sitting in the Adirondack chairs and just relaxing. As the crops came in, they were given out to employees and customers to enjoy. The garden has expanded in size twice, and the production has been amazing. It's been a source of pride for the employees, and an area that many of our customers enjoy.
---
Maine Public Broadcasting Network - Adam A
Maine Public Broadcasting Network Patriot Subaru has teamed up with the Maine Public Broadcasting Network on a number of high-profile marketing events over the past several years. The dealership supports the wide range of programming both heard and seen on MPBN radio and TV, with a consistent year-round underwriting program. To take the relationship a step farther, Patriot has been a leader when it comes to the annual fundraising donor support program, which is essential to MPBN. In one such membership drive, Patriot supplied the $10,000 Cash Grand Prize for a random drawing for all donors. The incentive helped to boost the fundraising drive to a record high. Patriot received many compliments from MPBN supporters, who appreciated such strong support from a local business.
---
People Helping People - Adam A
People Helping People Patriot Subaru's Service Department is a busy place. But it's not always cars that they fixed. One customer came to them in wheelchair accessible van. While his car was being serviced, the gentleman was having an issue with his wheel chair in the waiting room. He asked the service desk if he could borrow a wrench. Our service advisor took a closer look at the problem, and saw that the situation required a little bit more than just a wrench to fix the wheel correctly. The took the chair to the service bay, where two technicians took the bad wheel off, refitted it with new parts, and reseated the wheel. The gentleman and his family were very thankful, and the other customers who were waiting enjoyed the moment. It was a simple gesture that said a lot.
---
Patriot Subaru presented with the eco-excellence award - Adam A
ecomaine This Portland-based company, which specializes in waste management and recycling, has recognized Patriot Subaru with two awards for their eco-friendly practices. ecomaine honored businesses, schools, organizations, and citizens from 21 Maine towns in a special ceremony that cited each group's individual and collective efforts to improve the environment and community. Patriot Subaru was given the eco-Excellence Award for the town of Saco. Each recipient was acknowledged for the unique way that they created and implemented their programs. At the end of the ceremony, Patriot Subaru was awarded with a second award, the 2013 ecomaine Best Business Award. (If you're wondering...ecomaine is correctly spelled with lower case "e".)
---
Hurricane Sandy Red Cross Fund - Adam A
Hurricane Sandy Red Cross Fund Since opening in November 2003, Patriot Subaru has reached out to the Maine community with support. In the case of the 2012 super storm known to all as Hurricane Sandy, Patriot Subaru moved beyond the local community to provide financial support through the American Red Cross. Money went to provide essential services of shelter, meals, basic health care, emotional support, and family services. In three days, employees, customers, vendors, and friends had donated more than $5,000 to the Hurricane Sandy Red Cross Fund. More than 60 individuals made a donation, and Patriot matched each one. The total came to $10,256. They invited representatives from the Maine region Red Cross to the store and presented them with the check. No cake, no celebration, just a determined feeling that they were helping, even in a small way.
---
Social media campaign leads to pet food donation - Adam A
Local Animal Shelters Patriot Subaru saw a way that they could use social media to create a buzz, have some fun, and at the same time, make a worthy donation to local animal shelters. Rather than just write a check, they decided to invite the community to take part in the process. They posted Facebook pictures of pet bowls with the words "Facebook Friends" then announced that they would donate a bowl of pet food for every comment the photo received. The only catch was that they had to reply as an animal. What followed were hundreds of barks, woofs, meows, and purrs. Patriot then wrote checks for the shelters to purchase the correct amount of food. Each time the event has been conducted, Patriot has distributed more than $750. On top of that, they've even received voluntary donations from customers and Facebook fans.
---
Patriot Subaru earns the Energy Star Small Business Award - Adam A
Energy Star Four businesses in the United States were honored by Energy Star with a special 2010 Small-Business Award for their commitment to protecting the environment by reducing waste, recycling resources, and reducing energy consumption. Patriot Subaru, was one of those four. The Energy Star Small Business Award has recognized outstanding businesses since its inception in 1999, and Patriot is the first business in Maine to ever receive the award. Adam Arens, Patriot's owner, credits the Energy Star Guidelines for Energy Management with establishing a template from which they could implement ways to improve efficiencies. "We have more than 90 Energy-Star-qualified appliances in the building, from computers to microwaves. We also got creative. We no longer use balloons to brighten the showroom; we use hanging plants. We have our own organic garden. We recycle 100 percent of our waste oil. We meet as a team every week and work to get better."
---
Patriot Riders of America support Wreaths Across America - Adam A
Patriot Riders of America Patriot Riders of America - Maine Chapter One is a non-profit organization helping veterans, active duty men and women, First Responders, their respective families, and their local communities. Every year the Chapters hold events to raise money and awareness for the organization allowing them to continue providing many forms of assistance. Scott Lambert, a Patriot Subaru technician, is also a member of the Patriot Riders. Patriot Riders were involved with the Wreaths Across America, a program that raises funds to purchase wreaths for every stone in the veteran's cemeteries in Springvale, Maine. Scott approached Adam Arens, Patriot Subaru owner and explained the goal. In a strong show of support, Patriot Subaru asked what was needed, and donated the funds to honor and respect every fallen hero in the cemetery. Since that time, Patriot Riders and Patriot Subaru have teamed up to co-execute Toy Drives for Toys for Tots. This past year, the combination resulted in nearly four times the amount of toys from the previous year. In addition, the two groups have held blood drives with the Red Cross, with over 30 pints of blood collected. Last, the Patriot Riders held food drives during the year to support 50 families of disabled veterans. Scott and his fellow service technicians collected over $300 to make a large purchase of food items, as well as health and beauty aids.
---