Patriot Subaru in Saco opened in November 2003, with a total of 16 employees on board. Today, over 100 people work at the store, many of whom have been with the store for a long stretch of time. We celebrate our associates who have been at the core of our growth and success, by recognizing them as members of our
Founders Club.
All associates who have been with the store for 5 years or more are honored at our annual Founders Club dinner, held at an area restaurant every November.  All members are recognized and presented with a bonus check that grows with each additional year of service.
Seven Founders Club Members have been on board since before the doors opened, when it was all sheet rock and sawdust, folding tables and chairs. 

Adam Arens, Owner/President  2003
Brian Beattie, General Manager  2003
Greg Brown, Parts Manager  2003
Tom Talbott, Marketing Director  2003


The Founders Club grows every year with new members!   Here are the associates who have been with Patriot Subaru in Saco Maine for five years or more, including the year they joined the team:

David Shoemaker, Sales Manager  2006
Corey Createau, Sales Associate  2006
Michael Drown, Service Tech  2005
Jackie Parker, Finance Mgr  2008
Scott McClellan, Service Tech  2008
Glen Reed, Service Manager   2008
Tony Roberts, Sales Associate 2010
Scott Lambert, Service Technician  2010
Michelle Halitzer, Service Coordinator    2011

John Boucher, Courtesy Driver  2011
Tom Lettlier, Service Tech 2012
Matt Rieders, Sales Associate 2012
Paul Hall, Service Manager 2012

Mike Avery, Sales Associate 2013

Brandis Fleming-Gonzalez, Service Concierge 2014
Dan Walker, Parts 2013

Mike Loranger, Service Tech  2014
Adam Hall, Service Advisor 2015

Dustin Kimball, Sales Associate 2015
Stefanie Marcisso, Service Advisor 2016
Zander Girondel, Service Advisor 2016
Josh Beaudoin, Service Tech 2016
Alex Parechanian, Service Tech 2017
Cathy Cline, Accounting, 2017

We celebrate every year and the party keeps growing!  Here we are in 2022.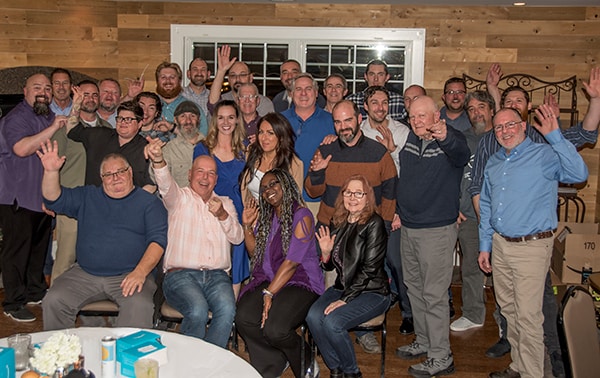 In addition, Founders Club Members with 10 years or more of service pack up and head out for an all-expense paid cruise, every five years. Two amazing trips have occurred so far, in 2019 and 2014. Not many pics made it back to the website.  Wonder why!