Patriot Subaru in Saco, Maine Earns

Energy Star National Environmental

Small Business Award        

SEPTEMBER 21, 2010
Four businesses in the United States will be honored by Energy Star with a special 2010 Small Business Award for their commitment to protecting the environment by reducing waste, recycling resources, and reducing energy consumption.
 Patriot Subaru, located in Saco, Maine is honored to be one of the 2010 award winners.  The Energy Star Small Business Award has recognized outstanding businesses since the inception in 1999, and Patriot is the first business in Maine to ever receive the award.  Patriot is also only the fourth auto dealer nationally in the 11 years to be recognized.
 Energy Star is a joint program of the U.S. Environmental Protection Agency and the U.S. Department of Energy dedicated to protecting the environment through energy efficient products and practices. 
 Adam Arens, Owner and President of Patriot Subaru commented, "From the day Patriot Subaru opened in 2003 we had a commitment to being responsible to the environment. As we grew, we established a strategy and adapted methods and programs that ensure we are doing the best we can in all departments to be more energy efficient and reduce waste."
 Arens credits the Energy Star Guidelines for Energy Management with establishing a template from which they could implement ways to improve efficiencies.  "We have over 90 Energy Star qualified appliances in the building, from computers to microwaves. We also got creative.  We no longer use balloons to brighten the showroom, we use hanging plants. We have our own organic garden. We recycle 100% of our waste oil. We meet as a team every week and work to get better."
 Patriot Subaru estimates they save more than $13,000 annually in energy costs.  Arens says, "We did have an advantage in that we started with a new building. The design was efficient. But we've implemented over 20 steps to help us reduce energy, another 40 steps to be more environmentally friendly, and another 20 things that make the building a healthier place to work.  Everything we do is listed on our website. We want others to see what Patriot is doing, and incorporate it into their businesses. If we can lead by example, and it helps the earth, then it's the right thing to do."
 For more information, please contact Adam Arens at Patriot Subaru, Saco, Maine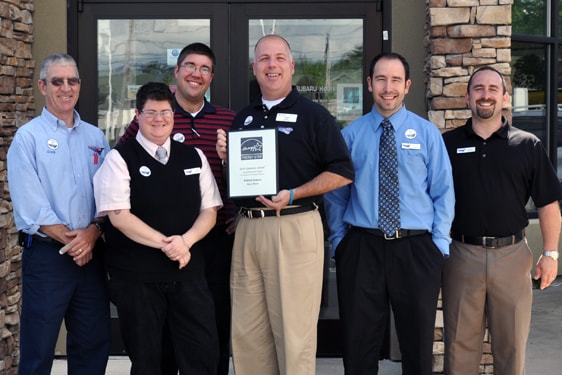 Patriot Subaru proudly accepts the Energy Star Small Business Award for 2010, one of only four businesses in the U.S. to receive this honor.  Pictured Greg Brown- Parts Mgr,  Jackie Parker-Internet, Tom Darhower - Sales, Adam Arens - President/Owner, Rick Roy - Service Mgr, and
Vinny Martorano - Sales.