Thank You.
Through the generous donations of store associates, customers, vendors, and friends, over $5000 was donated to our Hurricane Sandy Red Cross fund. In turn, Patriot Subaru matched that $5000 donation goal, sending a check to the Red Cross in the amount of $10,256.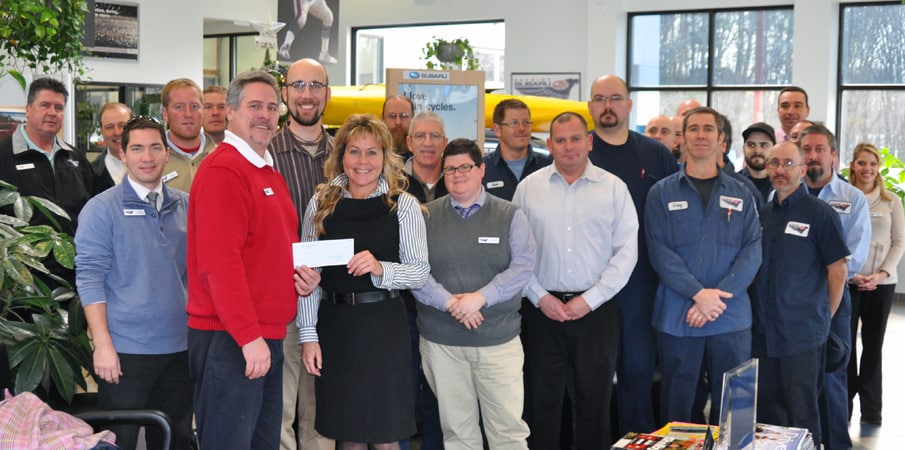 GSM Brian Beattie (Red Sweater!) presents the check to Tammy Atwood, Chief Development Officer for the Red Cross, Maine Region. The tall fellow to the right of Brian is Jason Shedlock, Regional Director, Communications and Government Director, Maine Region. The rest are many of the terrific associates at Patriot Subaru who joined in to support the program. Thanks to all!
The devastation left behind by Hurricane Sandy will be felt for years. We all know people who were directly impacted. The losses are incalculable.
Patriot Subaru encouraged everyone to donate what they could to the American Red Cross to aid in the relief. Money is used to provide essential aid such as shelter, meals, basic health care, emotional support and family services.
We would like to express our thanks to the following who generously donated:
Lois Donaghy & Raymond Shute
Rosanne Botto
Mayer & Sheryl Fistal
Linwood Higgins & Elinor Gibbs
Rabbi Akiva Herzfeld
Thomas Spellman
Ronald Hankel
Lawrence & Mary Pelletier
William & Kathryn Leffler
P.S. Marshall
Barbara Arens
Robert & Linda Rings
Susan Curtis
David & Carol Payette
Richard Hilton
NordX Employees
Margorie Hassan
Nicholas Cody
Gordon & Joan Brown
William Brown
Annette Adams
Becky Morse
Linda Macdougall
Kathleen Potrepka
Nancy Hutton
Susan Adler
L & M Verch
Mr. & Mrs. David Emery
Farrington Family
Sandra Fairweather
Lora Manning
Rachel Isaacs & Melanie Weiss
Helen Isenman
Susan Isenman

Harris & Alice Kennedy
Neil and Phyl Rubinstein
James & Marilyn Novotny
Marjorie Berman
Suzanne Thompson & Lydia Raymond
Carol Landry
William Preis Jr.
Johanna Christiansson
A.J. Amari
Michael Coffey
Patricia Aceto
Elson Family
Duane & Laura Snyder
Sally Walsh
Lucille Cooper
Joseph & Doris Buonomo
Janet Ordway
Lu Downey
Nancy Forgione
Thomas Westmoreland
Elizabeth Livingston
Pauline Barry
Michelle Haltizer
Tom Talbott
Al Touri
Glen Reed
Tony Roberts
Scott McLellan
Greg Brown
Scott Lambert
Greg Turcotte
Lonny Martin
Jackie Parker
And many anonymous!



.