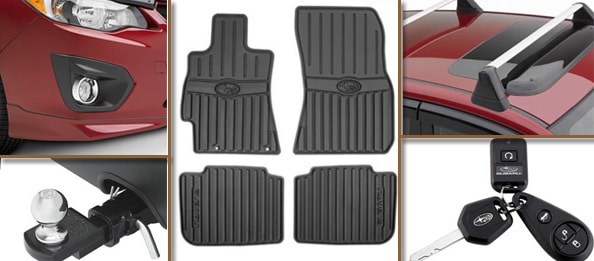 Patriot Subaru is the largest volume Subaru store in Maine, and one of the Top 25 Subaru dealers in the country. Patriot has the largest inventory of new 2012 Subarus in Maine (2013 models coming soon, including the BRZ and XV Crosstrek), as well as the largest selection of pre-owned Subarus in Maine. With over 200 new Subarus and dozens of high quality used to choose from, you will find what you are looking for! Shop at Patriot Subaru for the best variety of New and Used Subaru Cars around greater Portland and southern Maine.
Apart from the New and Used Subaru Cars, if you need Subaru parts, Patriot Subaru is one of New England's largest dealers for genuine Subaru OEM parts and accessories. You can order
Subaru Parts Online
, and can set up a service appointment online, or you can simply call (866) 284-7900. It will always be a prompt, courteous and friendly response. 
Following are the services, we offer:
Patriot has added an exciting new feature that will enable you to find the accessories that are the perfect fit for your Subaru. For example: If you need a floor mat made for, lets say a 2009 Subaru Outback, now you can find it quick and easy - and at a great price.
Click here
 to visit our exclusive Patriot Subaru Accessories site, where you can find the desired accessories for your Subaru vehicle! Follow the prompts and you'll find the accessories that were made for your vehicle: 
Cargo management
Electronics
Exterior
Interior
Performance and Wheels
Extra Bonus: If you'll bring your Subaru at Patriot, you will receive an extra 5% discount off the prices shown for parts and labor.
Note: For an older model Subaru, almost all of the same items are available. Simply call or email the Patriot Subaru parts department, and we'll help you find what you need.
You can save on the Suabru parts and accessories, when you service with Patriot Subaru. Just take the print out of the offer coupon, and bring it to Patriot Subaru. Some conditions may apply.
We have the most skilled and knowledgeable Parts Department. Our Parts Department Manager Greg Brown has been in the automobile parts industry since 1981, and with Subaru since 2000.  If there is any question about your order, you can expect a prompt email or phone call from Greg to get things squared away. When you need a part - Most important - We need the VIN Number.  If you are not sure where to find it on your vehicle, give us a call!
Accessories give your
Subaru Cars
 style all its own.  They also make great gifts for a Subaru owner. Practical, useful, and fun!  Check out the Subaru Parts Online at Patriot Subaru Accessories site for cool items and great ideas!  Question? Give us a call, toll free at 1-866-854-3090.