If you don't pay attention to your tire rotation and balance, even the best set of wheels can be at risk. If one of your Subaru warning lights dings off for tires that aren't lined up every time you start up or tires that need to switch places, it's time to make an appointment. Our vehicle service professionals can take care of whatever wheel needs you may have, such as wheel balancing, front-wheel drive tire rotation, and wheel repair.
It doesn't matter if your car has an AM radio antenna and was handed down from your grandparents or if it's pretty much straight off the lot; your tires have to be properly rotated and inflated. Ignoring improper tire alignment is a quick way to devalue your car and decrease safety inside your cabin. Rotation helps increase the amount of time your current set of tires can keep doing their job as the only crucial barrier between thousands of pounds of metal and the road itself. The "goal" of tire rotation is to spread wear around the entire set of four tires instead of having uneven wear that eventually breaks through on one tire or potentially more.
Front tires, for example, are used for traction more frequently, especially in front-wheel-drive cars that use those head tires for braking.
It's also another opportunity for a maintenance professional to make sure your tires are properly inflated and not damaged in any way. Tire rotation and balance are key, but finding out your tires need to be replaced before they give out is crucial. Our experts go through each tire in great detail when assessing wear and tear, analyzing, and when rotating or replacing your tires. They'll change your oil and test your brakes if you need it too.
Tire Rotation and Balance Coupon
While we do recommend consistently monitoring your tire balance, we also understand that maintaining your car's condition can be a costly endeavor. Take advantage of this coupon to offset some of the tire rotation and balance cost.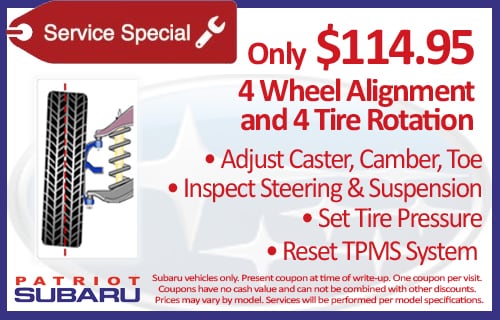 FAQs About Tire Rotation and Balance
Perhaps you're a first-time car owner, or maybe you haven't run into this particular vehicle predicament before. Tire alignment and rotation are only confusing if you don't know what questions to ask or are too intimidated to ask them. Fortunately for you, we've cut through any nerves you might have and taken care of all of that below.
What is a tire rotation?
Your tires are rotated to save them from wearing thin or wearing out. Since your four tires each have their own responsibilities and challenges as you turn corners, climb steep hills, and such, each tire breaks down differently over time. In general, rotating your tires means that those tires with less wear are substituted for those with more. Your tires may be realigned, inflated, or as a last resort, replaced.
How often should you rotate your tires?
Those wondering how often to balance and rotate tires will find that most experts recommend taking your car in for tire rotation every 5,000 to 8,000 miles. This gives vehicle professionals an opportunity to assess the wear and tear on your tires and to rotate and realign them according to the position that will keep them running the longest. They'll adjust your tires to their current wear pattern, increasing the life of your tires and the safety that comes with it.
Where is there tire balancing near me?
Our vehicle service professionals in Saco, ME, are available to adjust your tire rotation and balance today! Take advantage of the coupon above and make sure your tires are living their best life. Browse through our massive selection of new cars for sale in our family-friendly waiting room while your car is serviced.
We've helped our neighbors near Portland, ME, get back on the road and stay there longer for nearly 20 years. It gives us great pride to serve our customers and their families, and we hope you'll feel like our family as soon as you walk through our doors. Our customers don't have to search for things like "tire balancing near me." Once they've had their car serviced at Patriot Subaru, they don't want to trust their tires to anybody else. There is no greater endorsement we can receive, and we hope that the next time your car has trouble, you'll trust our local professionals to give you a hand. See you soon!